The Department of Justice Just Unveiled Its Smartest Marijuana Regulation Yet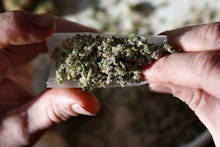 Native American tribes can now legally grow and sell marijuana on their lands.
The announcement came from the Department of Justice on Thursday, according to the Associated Press. Tribes will have to follow the same federal regulations as states with legalized weed, including keeping the drug out of the hands of children and criminal groups.
The move has the opportunity to kill two birds with one stone: providing an experiment in further marijuana legalization and another revenue stream to a long-marginalized group. Just how many will take the federal government up on that offer, though, remains to be seen.
The background: With Colorado, Washington and now Oregon legalizing marijuana for recreational use, tribes in those states had been facing some legal uncertainty as to their own ability to grow and sell weed. But the new ruling isn't limited to tribes in those three locations.
There are 566 federally recognized tribes in the U.S., meaning they "possess a nationhood status and retain inherent powers of self-government." That's what clears the way for them to decide for themselves on legalizing marijuana. Those that do will have plenty of logistics to work out; for instance, some tribes have their own law enforcement, while others rely on local, state or federal police, as the AP points out.
To understand how the law might work, consider casinos. Even when a state outlaws gambling, a tribe within that state can still put a casino on sovereign land. Some observers think the DOJ statement could pave the way for marijuana sales and tourism to tribal lands.
What it means: Since tribes can operate free of state and local taxes, they could sell marijuana at prices much lower than in states with legalization. It could be a boon for their coffers — and a blow to states like Colorado, Washington and Oregon if marijuana users decide en masse to buy cheaper product instead.
One in four Native Americans live in poverty, according to a Pew study from earlier this year, meaning that marijuana could create jobs for growers and sellers, as well as revenue from outsiders. But that doesn't mean every tribe is going to start opening up weed dispensaries. In fact, only three tribes have expressed interest in legalization so far, according to the AP.
Some tribes, including the Oglala Sioux in North Dakota and the Yakama Nation have already said no, with others citing drug and alcohol abuse issues already present for many tribal communities as a reason for caution.