This Woman Said "F*ck the Police" — and Won a $100,000 Lawsuit Over it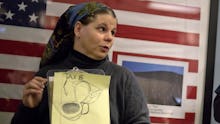 More like "hands up, don't swear." An Atlanta-area woman has been awarded a $100,000 settlement after being arrested and held in solitary confinement for saying "Fuck the police" to a pair of officers. It's a victory for First Amendment advocates — and a headache for local law enforcement.
The case dates back to April 2012, when Marietta, Georgia, resident Amy Barnes (who, according to the Atlanta Journal-Constitution, is a well-known political activist) was riding her bike home from the store. According to local Fox affiliate My Fox Atlanta, Barnes witnessed officers Brian Scurr and Dipa Patel questioning a suspect regarding an unrelated incident — what she described to NPR affiliate WABE as "yet another African-American stopped for doing nothing other than being outside while black" — and, in her words, "said, 'Fuck the police' and raised the middle finger and passed by."
The officers were not amused. "That ain't happening," one officer is heard saying on police dashboard camera footage that recorded the incident. The officers followed Barnes, arrested her and charged her with "disorderly conduct," a charge her lawyer, Cynthia Counts, disputes. "She could have been given a citation, but was arrested, put in solitary confinement, for part of it. She was in jail more than 24 hours," Counts said.
Although the charges were dismissed in 2013, Barnes was not satisfied; she filed a lawsuit against the Cobb County Police Department and accused the officers of violating her constitutional right to curse out police officers. According to Counts, "it's a bedrock principal of the First Amendment that caustic speech, offensive speech is certainly protected."
This week, Cobb County agreed to settle for $100,000. "It's a shot across the bow," Barnes told WABE. "It basically sent a message across this whole nation that free speech shall remain free or somebody's going to keep paying."
WABE legal analyst Page Pate isn't so sure about the First Amendment application. "They arrested [Barnes] without legitimate cause," she said. "She wasn't doing anything to break any particular law, so it was an unlawful arrest and therefore violation of the Fourth Amendment."
Regardless, Barnes doesn't plan to stop her activism any time soon: She plans to use the settlement to go to law school.
h/t WABE