Elizabeth Warren Has a Message for Big Banks: We "Should Have Broken You Into Pieces"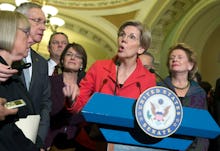 Sen. Elizabeth Warren (D-Mass.) always saves her harshest words for big banks and the legislation that lets them get bigger. This week has been no different.
Warren is urging fellow members of Congress to vote against the $1.1 trillion spending bill that would fund the government and avert a shutdown through at least September because of a Republican addendum that would strip away some of the financial reforms introduced in 2010's Dodd-Frank law.
"I agree with you Dodd-Frank isn't perfect," Warren told the banks, according to the Hill. "It should have broken you into pieces ... If we want to open up Dodd-Frank, let's do it and really end too big to fail rather than just saying we did."
Warren's worried about backsliding: The Dodd-Frank provision in question removed some federal financial protection for risky trading by banks. Getting rid of it, Warren argues, would open up the potential for future bailouts wherein taxpayers pay for banks' risks.
She's not alone either. Some legislators from both sides of the aisle — including Sen. David Vitter (R-La.) and Sen. Sherrod Brown (D-Ohio) — have demanded the provision be removed. The White House has come out against the provision too, though it likely won't be a dealbreaker in signing the final bill if it passes the Senate.
That's because President Obama and plenty more in Congress want to avoid another government shutdown. It's a bitter pill to swallow for some, but it's one that will likely gain enough support in the Senate to keep everything functioning — after all, the government is on the verge of a shutdown less than two weeks before Christmas.
Greatest hits: Warren has become a quote machine for progressives who adore her crusade against Wall Street excess. Talking about the Dodd-Frank provision earlier this month, she asked the Senate floor, "Who does Congress work for? Does it work for the millionaires, the billionaires, the giant companies with their armies of lobbyists and lawyers? Or does it work for all people?"
Warren also scored hits last year by warning that "too big to fail has become too big to jail" and campaigning to lower student loan interest rates: "Let's give students the same great deal that the banks get."
It's no wonder that some are urging her on for a 2016 presidential run. Until she makes that decision, fans will have to settle for quoting her congressional exploits.