18 #MillionsMarchNYC Photos That Prove Anger Over Police Brutality Isn't Going Away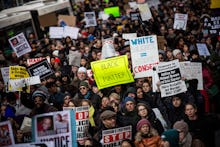 Thousands of people took to the New York City streets Saturday to protest police brutality in the wake of multiple instances of police officers killing unarmed black men with no legal repercussions.
#MillionsMarchNYC, a protest organized in mourning for people of color killed by the misuse of police force, has been strengthened by thousands of protesters who have joined the "Day of Anger" to demand justice for Michael Brown, Eric Garner, Akai Gurley and other victims. The action began in Washington Square Park at 2 p.m. and moved through Manhattan toward the New York Police Department headquarters, yielding breathtaking images along the way.
Take a look:
New York wasn't the only place where thousands of demonstrators shut down streets in protest. The Justice for All march, hosted by the ACLU and the Al Sharpton-led National Action Network, saw protesters gather at 10 a.m. and take over downtown Washington, D.C.
While these are the two largest protests, several others are taking place across the country. Grand jury proceedings may be over for officers Darren Wilson and Daniel Pantaleo, but protesters across the U.S. are sending a message: If nothing is done to address police violence, these demonstrations are only beginning.