Incredible Time-Lapse Shows the True Size of Saturday's #MillionMarchNYC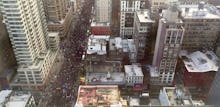 Tens of thousands of protesters across the country held massive demonstrations Saturday against police brutality, an unjust legal system and systemic racism in a series of synchronized marches in some of the nation's largest cities.
In Washington, D.C., Boston and New York, thousands of people shut down major thoroughfares and waved signs protesting the deaths of Mike Brown, Eric Garner and Tamir Rice at the hands of police.
Here's what an estimated crowd of 30,000 looked like as it shut down one of New York's biggest traffic routes on Fifth Avenue, as captured by videographer Vinay Pulim:
The protesters, united under the #MillionsMarchNYC movement, proceeded to demonstrate outside the New York City Police Department at 1 Police Plaza downtown near the Brooklyn Bridge in Lower Manhattan. Unlike prior protests over a grand jury's decision not to indict NYPD officer Daniel Pantaleo for the death of Staten Island man Eric Garner, this one occurred during the day and was highly organized. 
While the biggest crowds were found in NYC, about 10,000 to 25,000 protesters shut down Pennsylvania Avenue in D.C. as they marched near the Capitol building.
"What a sea of people. If they don't see this and make a change, then I don't know what we got to do. Thank you for having my back," Brown's mother, Leslie McSpadden, told protesters. Garner's mother, Gwen Carr, added that it was a "history-making moment" and said, "'It's just so overwhelming to see all who have come to stand with us today. I mean, look at the masses. Black, white, all races, all religion. ... We need to stand like this at all times."
Elsewhere, McSpadden and Carr joined Trayvon Martin and Tamir Rice's mothers, Sybrina Fulton and Samaria Rice, for an appearance on CNN:
"It seems our kids are getting younger and younger," Fulton said. "They're killing them younger and younger. There is no regard anymore for human life. There has to be somewhere where we draw the line and say, 'Listen, our kids want to grow up, too.'"
Here are a few other views of Saturday's protests that rocked NYC: