Samuel L. Jackson Created the 'Ice Bucket Challenge' of Racism — It's Going Totally Viral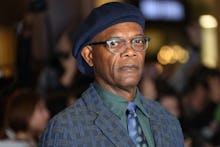 Legendary actor Samuel L. Jackson has dedicated himself to spreading awareness of the challenges faced by black people when they're confronted by police — and he might have just created the next Ice Bucket Challenge-style online sensation to do so.
In a video posted to his Facebook page Saturday, Jackson challenged fellow celebrities to speak out for the civil rights of black Americans. He did so with a haunting song using the last words of Eric Garner, who was killed by New York police in July, with Jackson calling out the "violence of the racist police."
Take a look:
A viral hit: By Sunday afternoon, the video had over 30,000 likes and shares. One post read "Back a brother up!!", while another man commented "BRAVO, I truly admire this. Police brutality has to end, salutes from Spain." The lyrics were originally written by Luke Nephew of the Peace Poets, a "collective of artists that celebrate, examine and advocate for life through music and poetry," according to their website.
Lyrics below:
I can hear my neighbor cryin' 'I can't breathe' / Now I'm in the struggle and I can't leave. / Callin' out the violence of the racist police. / We ain't gonna stop, till people are free. / We ain't gonna stop, till people are free
Jackson's challenge is intentionally similar to the ALS Foundation's Ice Bucket Challenge, which raised the nonprofit more than $94 million in less than a month. By using his celebrity to push for social change, Jackson hopes to create a similar furor over the deaths of Garner, Mike Brown, Tamir Rice and countless others who have been killed in suspect circumstances by police officers. 
It's perfect timing, too. On Saturday, protests hit Washington, D.C., New York and other major cities as tens of thousands of demonstrators shut down major roadways, waving signs demanding justice. Garner's last words "I can't breathe" figured as prominently in the protesters' banners as they do in Jackson's video.
"Come on. Sing it out," Jackson implores viewers at the end of the clip.
Garner's mother, Gwen Carr, told protesters gathered outside the Capitol building in D.C. "this is a history-making moment."
"It's just so overwhelming to see all who have come to stand with us," Carr said. "Look at the masses — black, white, all races, all religions. ... We need to stand like this at all times."
In August, actor Orlando Jones made a similar protest video in which he poured a bucket full of ammunition over his own head in a symbolic act of solidarity with the many Americans who have given their lives fighting for human rights. Other black celebrities have dedicated time and money to the movement that's sprung up after a year seemingly filled with police shootings, filming other videos and making appearances at major protests.
Correction: Dec. 14, 2014
h/t MSNBC