Listen to Neo-Soul Legend D'Angelo's First New Song in Over 14 Years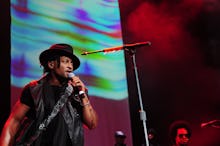 It's been over 14 years since R&B legend D'Angelo released his masterpiece Voodoo, but the wait is finally over. On Friday, D'Angelo announced via YouTube that his next album, Black Messiah, would be released this coming week. 
But D'Angelo is giving fans an early taste. On Sunday morning — 3 a.m. to be exact — the singer-songwriter legend dropped "Sugah Daddy," the album's first single, and it's fairly amazing.
Take a listen:
Writing about the 2000 album in a top 100 countdown, Rolling Stone noted, "Always a mystery man, D'Angelo vanished almost immediately and hasn't been heard from since — but the way Voodoo lingers in the mind, he'll get a warm welcome whenever he returns."
Thankfully, "Sugah Daddy" warrants a warm welcome. A 5-minute-long groove of textured soul highlighting D'Angelo's exceptionally smooth voice, "Sugah Daddy" is an amazing return for an artist who's been gone for so long that his comeback had been hyped to almost unreasonable levels. 
Though D'Angelo performed live on occasion the past 14 years (including a 2012 live performance of this very song, which you can watch below), fans have been eagerly waiting his next full studio release. And judging by what we've heard so far, chances are the rest of Black Messiah will be ready to make those fans happy. 
h/t Slate