All of These Fashion Magazine Covers Have One Appalling Thing In Common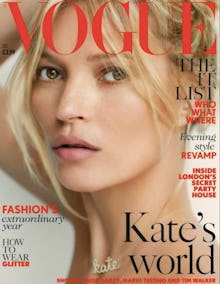 Twitter
They're almost completely white. 
Despite the fashion industry's love of cultural appropriation, from white models wearing tribal face paint to fashion editors donning Native American headdresses for no apparent reason, true diversity, it seems, remains nothing more than a talking point.
Case in point: The Fashion Spot examined 44 major print magazine covers from around the globe, and found that in 2014, white models occupied five times more covers than models of color: "Out of 611 total covers (this includes issues that had multiple covers), white models appeared 567 times, while people of color made 119 appearances." 
The bad: If there was an award for the whitest covers of the year, Vogue would easily take home first place. Vogue U.K., Vogue Netherlands, Vogue Paris, Vogue Ukraine, Vogue Russia and Teen Vogue, as well as Harper's Bazaar U.S. and U.K., Numéro, LOVE and Porter, did not use any cover models of color at all in 2014. Not one.
While there are several offenders on the (lack of) diversity list, one in particular stands out as the worst of the worst: Vogue U.K., which according to the Fashion Spot, has not featured a woman of color on a solo cover in 12 years, despite the success of models like Jourdan Dunn. 
Vogue Japan and Vogue Korea didn't fare much better, either. Out of Vogue Japan's 14 covers, only three featured women of color, including only one of Japanese descent, and Vogue Korea featured four models of color on its 13 covers. For those of you who are mathematically challenged, that's nearly 79% and 69% whiteness, respectively.
The good: Not all was lost to whitewashing this year. Vogue India, for example, featured women of color exclusively on all of its 2014 covers, while Vogue Taiwan used models of color 13 times. 
But these wins simply aren't enough to salvage the glaring diversity problem plaguing the fashion industry. 
Unfortunately, it's not just magazine covers that are systematically whitewashed. Runways also follow suit. This is particularly evident in New York's Fashion Week, which is dominated by white models year after year.
Why this matters: It's hugely problematic when white models by and large win coveted magazine covers over their successful darker-skinned colleagues on a regular basis. What message is the industry sending when a Japanese fashion magazine only features one Japanese model on its cover? One of absolute white privilege, of course.
The impact is twofold, affecting both industry insiders and consumers. As Jezebel noted in early 2013, "it forces models of color to compete against each other for the one or two runway spots that might go to a nonwhite girl, it provides downward pressure on nonwhite models' wages and it makes agencies less willing to invest in models of color, given that fewer opportunities mean a lower lifetime earning potential."
As for consumers, fashion and media may influence perceptions of beauty and affect people's sense of potential. As actress Lupita Nyong'o told Glamour earlier this year, "Until I saw people who looked like me, doing the things I wanted to, I wasn't so sure it was a possibility."
The globe is not entirely composed of white faces, and popular culture in all its forms, including fashion magazines, should adequately represent the world's diversity. Aspiring fashionistas, designers and models alike deserve role models who reflect their corporeal reality, because bodies of all colors are beautiful.