A New App Is Shattering a Major Myth About Polyamorous Relationships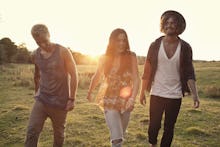 Think Grindr and Tinder, and you think casual sex. But when it comes to apps for polyamorous people? Not so fast. 
Released just last month, The Poly Life is an app aimed at the poly community. But unlike other relationship apps on the market — and unlike what some might assume about polyamory — The Poly Life has nothing to do with hooking up. 
The product was conceived by a poly family and app developer Christine Tseng to address the daily challenges poly partners face. As one of the family members told Vice, "there's nothing out there that's made for people in multiple relationships," unlike apps for hookups, of which there are plenty.
But casual hookups, importantly, actually have little to do with polyamory. Indeed, rather than focusing on meeting new potential partners, the Poly Life app (currently available for iPhone and fundraising to launch for Android) features shared calendars, group chat and multiple tasks lists — not exactly sexy features, but ones helpful to maintaining the intricate connections of some polyamorous relationships.
Sex is certainly involved in polyamorous relationships; one feature of The Poly Life helps partners post and update the rules of their relationships, as managing boundaries between multiple couples can get tricky. 
But above all, polyamory is less about sex specifically but rather pursuing relationships with multiple partners. While there's no one way to be polyamorous, as the Atlantic points out, these relationships are often stable, loving and no less serious or committed than two-partner relationships. And the functional nature of The Poly Life highlights just how thoughtfully constructed these relationships, including those that involve families with children, can be. 
Unfortunately, it's a reality that's still misunderstood. Polyamory has entered mainstream conversation in recent years, with numerous magazine stories on the topic, interviews with "throuples," TV shows like Showtime's Polyamory: Married and Dating, and even celebrity testimonials such as Maria Bello's essay in the New York Times. 
But even with heightened awareness, relationships that include multiple partnerships are often still viewed as "unconventional" or bizarre. As Angi Becker Stevens wrote about her poly family in Mic, 
"To conservatives, we're the ultimate danger that the 'slippery slope' of gay marriage might lead to. To liberals and particularly same-sex marriage advocates, we're often seen as a silly distraction from more important matters." 
No matter how many stories are written, polyamory is still often perceived as an edgy experiment for the sexually promiscuous. 
Rolling Stone put polyamory at the center of their 2014 report on "millennials' sexual revolution," describing multiple-partner relationships as an avant-garde arrangement seemingly too radical for the "young-professional types" currently taken with it.
"She wears pretty skirts; he wears jeans and trendy glasses. They have a large, downtown apartment with a sweeping view," article author Alex Morris wrote, marveling at the piece's polyamorous subjects, as if people so normal couldn't possibly partake in such freaky behavior.
But polyamory isn't a kinky "revolution," nor is it a hot millennial fad. As the Los Angeles Times guest blogger Emmett Rensin wrote in response to Rolling Stone, "Polyamory isn't a trend among young people. It never was. Among the non-monogamous, there is everything from the youngish hipsters Morris profiles to long-standing domestic families with mortgages and children. Some are even on Social Security. The only common thread is deviation from strict, traditional fidelity."
If that sounds boring and mundane, it's because it can be, in the best way possible. For the types of families targeted by this app, polyamory is just a normal, stable way of life. A member of the poly family that worked with Tseng on the app told Vice, "Our favorite part of the app is the To Do List. We've all forgotten to pick up toothpaste or toilet paper at some point. Now we can give each other chore reminders and assign them with no excuses for dropping the ball!"
If there's anything more normal than picking up toilet paper from the store, we don't know what is. 
h/t Vice