21 Years Later, Kurt Cobain's Comments on Rape Are More Relevant Than Ever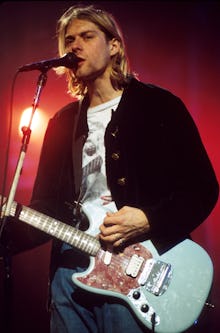 Most know Kurt Cobain as the father of grunge, or as an iconically tragic member of the 27 Club. But when Nirvana was inducted into the Rock and Roll Hall of Fame last April and it came time for the band to play with a new vocalist, they didn't choose some grunge star to fit the gap. Instead, four of rock and roll's most powerful female singers took Cobain's place.
That revealed to the public something only the most die-hard fans know about Cobain: He was a passionate feminist.
Few interviewers gave Cobain the opportunity to speak about feminism or women's issues. But when they did, he delivered some of his most passionate thoughts — and some of his most currently relevant beliefs. In a 1991 interview with NME magazine, Cobain told the world how society should look to eliminate rape:
Considering the discouragingly large number of headlines covering rape today, especially following the Rolling Stone debacle, the insight Cobain offered 23 years ago could not be more relevant or necessary today.
Cobain said he realized that we need to educate men about rape when he spoke with a female friend who was attending rape self-defense classes.
"She looked out the window and saw a football pitch full of boys, and thought those are the people that should really be in this class," he said.
To this day, people are quick to blame the victims of rape for putting themselves in "compromising" situations or for wearing provocative clothing that communicate an easily misconstrued "message" to the male eye. Several have suggested Coban's intuitive tactic as a way to combat campus rape, especially.
Cobain wrote about sexual assault, too. On "Rape Me," the second single off In Utero, Cobain attempted to write an antirape anthem, though few were able to see that through the song's jarring profanities. "It's like she's saying, 'Rape me, go ahead, rape me, beat me,'" Cobain told Spin, "'You'll never kill me. I'll survive this and I'm gonna fucking rape you one of these days and you won't even know it.'"
Cobain also discussed rape on Nevermind's "Polly," which many journalists similarly misunderstood. The graphic language and wrathful guitars caused many to lump Cobain in with the monsters the song was intended to take down. In the same 1991 cover story by NME, Nirvana bassist Krist Novoselic clarified the meaning of "Polly."
"It's about a young girl who was abducted," Novoselic told NME. "The guy drove her around in his van. Tortured her. Raped her. The only chance she had of getting away was to come on to him and persuade him to untie her. That's what she did, and she got away. Can you imagine how much strength that took?"
To this day, Kurt Cobain is an unusual bright spot in rock and roll's track record addressing women's issues. Its history is marred by sexism, as Cobain was well aware. This history likely contributed to the misinterpretation of the man's message, though he was so overtly clear on so many occasions.
"Because I couldn't find any friends, male friends that I felt compatible with, I ended up hanging out with the girls a lot," he once said of his high school experience in a 1993 interview. "I just always felt that they weren't treated with respect. Especially because women are totally oppressed."
Cobain's music and ideas took a bold stand against the patriarchy at a time when it wasn't especially hip to do so. As we struggle to dismantle rape culture and sexism, Cobain's words could offer the solution we need. He was one of the greatest feminist voices rock and roll has ever known, and he should be remembered that way.