D'Angelo's First New Album in 14 Years Is Just What Black America Needs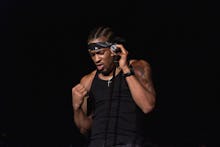 It took D'Angelo 14 years to release his new album. At times, it seemed like it would never come. The whole time, it wasn't clear what, exactly, the legendary soul singer was waiting for. Then, this weekend, he released a new single out of nowhere. Shortly thereafter, on Sunday evening, he released an entire album on iTunes and Spotify. 
It's called Black Messiah and it makes amply clear why he waited so long. He was waiting for the moment when the world needed his voice again. 
Black Messiah comes on the heels of a national outcry against anti-black racism and police brutality. The nation has been rocked by the news of numerous unarmed black people being killed by police or vigilantes. Last weekend, after back-to-back rulings that the officers who killed Michael Brown and Eric Garner would not be indicted, thousands took to the streets in the largest wave of protests yet. 
And in the midst of it all, Black Messiah dropped as an essential rallying cry. It is a study in traditional black musical forms, and a cutting indictment of racial injustice in America. At a private listening event on Sunday, D'Angelo shared his most recent work, including a booklet explaining the album's vision and context.
"For me, the title is about all of us. It's about the world. It's about an idea we can all aspire to. We should all aspire to be a Black Messiah," he says, according to Billboard. "It's about people rising up in Ferguson and in Egypt and in Occupy Wall Street and in every place where a community has had enough and decides to make change happen. It's not about praising one charismatic leader but celebrating thousands of them." 
It's an idea that's not only emblematic of an album, but of a new movement for civil rights that's primarily being spearheaded by the leadership and organizing strength of young people across America — and its resonant message that black lives matter. In the song "The Charade," for example, he sings, "All we wanted was a chance to talk, 'stead we only got outlined in chalk." The painful reality of voices silenced and lives lost due to racialized violence informs the many marches and even the die-ins that are currently sweeping the nation.
For an album that's been in the works for the better part of 10 years, it's filled with many messages that black America has needed all through American history. Now is no exception.
His timing seems impeccable, but it isn't just patience that's kept D'Angelo away from the spotlight. His soulful sounds have positioned him as a legend, but personal struggles have kept him out of the public eye. Despite an impressive collection of work, including the 2000 album Voodoo, he's perhaps most known for what's considered one of the sexiest music videos of all-time: "Untitled (How Does It Feel)." A testament to D'Angelo's powerful lyrics and smooth vocals, all it took was an empty soundstage and him singing about intimacy and unbridled desire for a woman to drive audiences wild. And he did so standing in the buff, exposing his ripped body for the world to see.
The resulting pressure for him to continue selling sex along with soulful R&B became too much to bear, even causing him to spiral into drug addiction and face multiple stints in rehab. 
During those years of struggle came repeated promises of a forthcoming album from both D'Angelo and his many collaborators. As early as 2005, there were talks of the third album being named James River, but there was nary a word on when it'd actually be released. A few years later, various rumors and reports circulated about collaborations with the likes of John Mayer, Mark Ronson and Prince, as reported by Vulture. And in early 2012, D'Angelo reemerged on a number of tour dates with the songs "Sugar Daddy" and "The Charade," selections that would eventually become part of Black Messiah. Even then, there was buzz of a composition that was ready for release — yet the wait continued. 
But now it's here, and it feels like the album's long history has led to a nationally felt tension. Musically, this year has been dominated by the likes of Taylor Swift and Iggy Azalea; it has been dominated by cultural appropriation and the shocking absence of mainstream artists have responded with music offering a conscious take on contemporary social issues. With the release of Black Messiah, especially at the year's end, there's now a perfect soundtrack that underscores the strivings of millions. And we have D'Angelo to thank for it.