Pink Floyd's Guitarist Crashed a Show in London, and It Was Unforgettable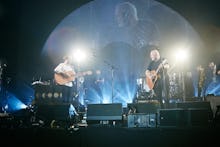 Pink Floyd fans rejoice: The band may have released their last album ever in November, but they're not done performing yet. On Saturday, Pink Floyd's lead guitarist David Gilmour appeared onstage for the first time since 2011 to play the band's iconic "Wish You Were Here."
Gilmour joined English indie rock band Bombay Bicycle Club during their concert at London's Earls Court, first playing guitar for the band's "Rinse Me Down" and then performing the Pink Floyd classic from their 1975 album, Wish You Were Here. Saturday's concert marked the last gig at the venue Earl's Count, which Rolling Stone describes as "legendary," before it is demolished and redeveloped.
Gilmour's farewell to the venue was fitting on every level. Pink Floyd first played at Earls Court Arena in 1973, on their historic Dark Side of the Moon tour, NME reports. Rolling Stone reports that parts of the band's live album Is There Anybody Out There? The Wall Live 1980-81 and all of the 1995 Pulse concert film were recorded at the venue. And, Earls Court was the last place Pink Floyd played together in 1981 until their 2005 reunion.
When Bombay Bicycle Club guitarist Jamie MacColl introduced Gilmour, he gave a nod to Gilmour's influence on his own career saying, "This man gave me my first guitar and was one of the first people to play this venue and by my count has played here more than 27 times." And indeed the performance was a beautiful way of acknowledging Pink Floyd's influence on the band and the strain of British rock that they've helped preserve.
But even though Gilmour's appearance Saturday may seem like a way to pay homage to a bygone career, Gilmour recently revealed that he's not done making music. He's currently working on a solo album to be released in 2015 and plans to go back on tour in the future.
Pink Floyd's legacy lives on in more than just Gilmour's continued efforts though. More than 40 years after the release of the band's album Dark Side of the Moon, it once again snagged a spot on this week's Billboard 200's Top 20. So while almost four years have passed since Pink Floyd last performed, the band's influence is stronger than ever. Though they've reached the end of their career, their legacy lives on.