Bernie Sanders Has a Plan to "Break These Behemoth Banks Up Once and for All"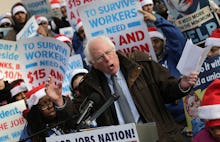 With the big banks lobbying hard to take chunks out of the modest regulations passed in the aftermath of the 2008 economic crisis, Sen. Bernie Sanders (I-Vt.) has revealed plans to launch a grassroots campaign to break Wall Street's death-grip on the U.S. economy.
When the new Congress convenes next month, Sanders will introduce legislation that would "break these too-big-to-fail banks up so that they can never again destroy the jobs, homes and life savings of the American people."
Sanders spelled out his intentions during Senate debate over a controversial spending bill to fund most of the federal government through September 2015. The bill was approved by a bipartisan 56-40 vote on Saturday. Included in the White House-backed legislation is a provision written by Citigroup lobbyists and pushed by JP Morgan Chase CEO Jamie Dimon that would put taxpayers back on the hook for catastrophic losses incurred by banks engaged in especially risky trading practices.
The plan: "At the beginning of the new Congress, I will be introducing legislation that will break these behemoth banks up once and for all," Sanders said on Saturday. "If a financial institution is too big to fail, it is too big to exist.  I look forward to working with both progressive and conservative senators who have the courage to stand up to Wall Street and protect the working families of this country."
Here is Sanders making his case on the Senate floor:
Who's with Bernie: Sanders will have at least one increasingly high-profile colleague in his corner. Sen. Elizabeth Warren (D-Mass.) gave a rollicking speech against the regulatory rollback on Friday, calling on her fellow senators to reject "ramming through a provision that would do nothing for the middle class, do nothing for community banks, do nothing but raise the risk that taxpayers will have to bail out the biggest banks once again."
"So let me say this to anyone who is listening at Citi," she said. "I agree with you. Dodd-Frank isn't perfect. It should have broken you into pieces."
But Warren isn't the only ally Sanders might be able to count on. In addition to a number of outspoken liberal Democrats, he should attempt to court tea party leaders like Sens. Ted Cruz (R-Texas) and Mike Lee (R-Utah). Another likely Republican presidential candidate, Sen. Rand Paul (R-Ky.), has been openly and vocally opposed to the government's decision to bail out the big banks during the 2008 crisis. 
It's an unlikely group, but it has precedent. In much the same way the original tea party protesters and early Occupy Wall Street activists had more in common than most would expect, Sanders, Warren and their right-wing colleagues all make strong arguments about the dangers of government becoming so deeply entwined with private industry. And while they might not always agree on exactly how to go about extricating the country from those ties, that basis of understanding is a worthy place to start the conversation.
So you're saying there's a chance: Not really.
As we saw in the Senate's vote this weekend and the easy way tough-talking House Democrats folded under pressure from Wall Street and the White House days earlier, the likelihood of passing new bank regulations with a Republican majority in both chambers of Congress — the majority of that majority, along with many Democrats, with deep ties to the big banks — is nigh on impossible. 
But that doesn't mean it isn't worth trying. The only real defeat in the fight to unbind American taxpayers from Wall Street's greedy gambling would be silence. And it doesn't seem like Bernie Sanders is about to shut up anytime soon.