Watch Cops Viciously Interrogate a Woman After Shooting Her Boyfriend Dead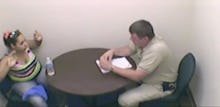 When police shot black man John Crawford III dead in a Ohio Wal-Mart in August, despite conflicting reports, a grand jury agreed the officers on the scene had done nothing wrong. 
And now a video released to the Guardian appears to show Beavercreek Police Department detective Rodney Curd aggressively interrogating Crawford's surviving girlfriend shortly after the incident, berating her to tears and repeatedly threatening her with jail time while questioning her sobriety. 
The video: The intense interrogation came after Tasha Thomas was escorted to the BPD for questioning following Crawford's death. The questions start out mundane ("Tell me where he got the gun from") but rapidly become more aggressive, with the innocent Thomas being called a liar and asked, "Have you been drinking? Drugs? Your eyes are kind of messed-up looking." 
Eventually, she's reduced to swearing on the lives of her family that she's telling the officer the truth amid sobs and repeated requests to take a lie-detector test.
"You are very close to this man and that's why you know what's going on and you need to be truthful with us," Curd states in the video. "Because this might be your last chance." 
It's not until 90 minutes in the interview when police informed Thomas that Crawford was dead. "As a result of his actions, he is gone," Curd informed her. 
Can this kind of behavior be justified? FBI agents later noted that Curd used the harsh interviewing techniques while under the assumption that the gun Crawford had been carrying was real, and not a BB gun. However, Crawford's lawyers have since noted multiple inconsistencies in Ritchie's account and have pointed out that under Ohio open-carry laws, Crawford would have been equally within his rights to carry an actual firearm.
Additionally, surveillance video of his death shows that he never interacted with other shoppers or staff as he walked through the department store while chatting on his cell phone with another woman. At times, 911 caller Ronald Ritchie has changed his account of the incident.
What should have been different? New Jersey-based security consultant Brad Spicer told the Dayton Daily News that the officers have a responsibility to reassess the situation upon arrival and that, in this situation, the officers probably could have taken a moment to realize, "I didn't hear a gunshot. I didn't see anyone screaming."
That said, Spicer noted these kinds of situations are very tense and in "a rapidly developing unknown situation bearing responsibility for the lives of those around them," things sometimes change. 
"You have stress, you have fear, you have a time-clock ticking," Spicer told the Dayton Daily News. "We call that 'extreme survival stress.' We would love to have law enforcement agencies that never make mistakes. Unfortunately, that is never going to happen."
A continuing problem: ProPublica has calculated that young black men are approximately 21 times as likely as their white counterparts to be slain by the police, while the New Republic reports that studies have demonstrated a possible racial bias in the decision to open fire .
As Vox notes, FBI data indicates that black Americans are disproportionately more likely to be killed during an arrest, including those where the suspect was not attacking. But since there's no federal requirement to report killings by either state or local police to any centralized authority, the number of Americans killed annually by local cops remains a mystery but is almost certainly higher than FBI estimates. 
Unfortunately, as long as certain police officers continue to treat black people as criminals like this and handle the aftermath of these events so poorly, as the above video demonstrates, those saddening statistics may never improve.