These Are the 13 Best Protest Artists of Our Generation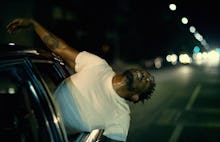 In the wake of the Eric Garner and Mike Brown grand jury decisions, Questlove took to Instagram this month to call for more protest music.
"We need new Dylans. New Public Enemys. New Simones. New De La Roachas. New ideas!" he wrote. "I mean real stories. Real narratives. Songs with spirit in them. Songs with solutions. Songs with questions. Protest songs don't have to be boring or non danceable or ready-made for the next Olympics. They just have to speak truth."
This has been a hard year, and the Top 40 has largely failed to provide the music our culture needs to address the issues that are facing us. But luckily some musicians aren't just playing for entertainment — there are some musicians who aren't concerned with charting; musicians making vital, expressive and necessary music.
These are the 13 greatest protest singers of our time — the voices that might finally make the change we so desperately need.
1. J. Cole
Rapper J. Cole was one of the first musicians to break the silence following Michael Brown's death. Just six days after Brown was killed, J. Cole released a track that gave a raw, unflinching picture of the emotional upheaval the event caused.
"I'm tired of being desensitized to the murder of black men," J. Cole wrote in a statement accompanying the cut. "I don't give a fuck if it's by police or peers. This shit is not normal. I made a song. This is how we feel." 
Segments of witness testimony filled the space between verses, which Cole delivers in a strained voice, his pain almost palpable. 
His most recent album, released Dec. 9, continues the discussion he started on "Be Free." 2014 Forest Hills Drive's songs discuss the attainability of equality and speak on the true value of black lives in America. Each cut has undeniable honesty and resonance that prove why Cole will continue to be one of the most important MCs of our generation.
2. Run the Jewels
No album did a better job capturing what it was like to be alive in 2014 than Run the Jewels 2. 
Its songs run the emotional gamut, ranging from righteous indignation at the world's many injustices ("Lie, Cheat, Steal") to a world-weary sadness ("Early") to a sober promise that the men of Run the Jewels will not stop until peace and justice reigns on earth ("Angel Duster").
Outside of music, Killer Mike proved a capable spokesman, discussing how we can make sense of Brown's and Garner's deaths, and how and where we should direct our anger. No one has captured the necessity of speaking out more aptly than Killer Mike did in his August Billboard op-ed. 
"Whatever this country is willing to do to the least of us, it will one day do to us all," he wrote. In those lines, and many others in his raps, we can hear echoes of some of our country's most controversial protest acts of old. Singer Zack de la Rocha of Rage Against the Machine actually features on the album in a rare appearance. 
3. Kendrick Lamar
Kendrick Lamar's 2012 album good kid m.A.A.d. city — and all the singles he's released since — satisfy all Questlove's definitions for what protest music should be. The Compton, California, MC's music is insightful and far-reaching. It offers questions as well as solutions. His most recent song, the life-affirming "i," with its surprisingly upbeat chorus — "I love myself" — captured the essence of the hugely viral #BlackLivesMatter campaign in song form before the movement had begun.
The song proved a revolutionary act of self-love. With that, Kendrick claims, one can make waves. "They can lock your body, they can't trap your mind," he once said describing the song's message.
Kendrick poses knowledge as a solution to social and economic inequality. "We tend to act in violence all the time, and that's just something we were brought up to do," he said in a recent interview with Complex, discussing the mental state of those in the most repressed areas of the country, "Now that I'm more mature, I [can show] them other avenues to go about handling themselves: being knowledgeable and jumping into a book rather than reaching for a pistol and reacting that way."
4. Tef Poe
Rapper Tef Poe's career is a seamless blend of artistry and activism. A St. Louis native, Poe has been deeply involved with the protests in Ferguson, Missouri.
"I would personally consider myself a sellout if I didn't contribute something greater to the situation," Poe recently told Global Grind, describing his determination to use his music to create change. "Hip-hop sets the tone for the hood. In certain pockets of St. Louis, I have more power than Barack Obama, so I have a responsibility."
In November, he released "War Cry," a powerful track that captures the helpless rage he and many felt living through the Ferguson aftermath. "This record was made out of a sense of desperation," he wrote. "We cry for justice and they tear gas us in return. This situation has turned into a political game of cat and mouse and we are the mice."
Tef Poe's verses have an incredible sense of urgency to them. They capture all the passion and energy present in the anti-police brutality chants that have filled the air in the recent protests in New York, Ferguson and Washington, D.C.
5. Hozier
Hozier's "Take Me to Church" is one of the breakout protest anthems of the year. The harrowing black-and-white video included footage from anti-gay demonstrations in Russia, and became an unofficial anthem for the struggle there. His music doesn't sound like what most expect from protest songs — it's poppy, accessible but also politically defiant in a way that pretty much all other popular record-breaking songs were not. 
When asked by the New York Times whether he's trying to open the scene to accommodate more revolutionary undertones, Hozier said, "That would be beyond me. I write things that I feel strongly about." He does agree that the vast majority of music in the Top 40 is empty and meaningless. "That's reflective of our culture and of society." he said. "I don't know if I can change it."
Whether Hozier can change the culture or not, he at least is one man who is willing to take a stand.
6. Father John Misty
Folk singer Father John Misty's laconic and melodic style does not scream protest music — it mutters, wails and croons it. 
Misty is one of today's most covertly controversial artists. His recent performance of the song "Bored in the USA" on the Late Show with David Letterman seemed calm on the surface, but his lyrics dripped with venom: "Is this the part where I get all I ever wanted? / Who said that? / Can I get my money back?... Save me President Jesus!" 
Misty's music has a bit more of a depressed disillusionment than Bob Dylan's or Peter Yarrow's hopeful anthems from the '60s and '70s. But it's just as incisive and thought-provoking: It's protest music for an apathetic audience.
7. TV on the Radio
"Music is a way to document history that prevents it from being rewritten without anyone noticing," Dave Sitek, one of TV on the Radio's founding members, recently told Fader. For the entirety of its 13-year career, the band has long sought to do exactly this. 
Their music is consistently some of the most politically focused in all of indie rock. They've covered some of history's most controversial events and issues, taking on everything from political corruption to Wall Street greed to the wars in the Middle East. 
"Did you buy the bull they sold you / That the bullets and the bombs / And all the strong arms / Would bring home security?" they sing on "Dry Drunk Emperor." It didn't. It hasn't. The lines capture the disillusionment our society has felt since the end of the George W. Bush era.
8. Bright Eyes
Protest music did not come naturally to Conor Oberst, lead singer and songwriter of Bright Eyes. "It's something I grew into the more I became aware of the world and what power musicians and public figures have," he once told NPR. "I don't do it lightly. It's not something I enjoy doing, but I feel compelled to do it."
Oberst's lyrics are always hard-hitting, but often inscrutable. There is a deep Dylan-esque poetry to his protest music. On "Road to Joy," he describes the myriad forms that modern social and political discontent take.
"What history gave modern man / A telephone to talk to strangers / Machine guns and a camera lens / So when you're asked to fight a war that's over nothing / It's best to join the side that's gonna win ... No one's sure how all of this got started / But we're gonna make them goddamn certain how its gonna end."
9. Hurray for the Riff Raff
"My musical heroes always were people who used their music as some form of political protest," Alynda Lee Segarra, lead singer of the folk group Hurray for the Riff Raff, recently told Mother Jones. Like Questlove, she feels those kinds of voices have been absent of late. She blames the Backstreet Boys and other bubblegum acts that took over pop in the late '90s.
But Segarra believes protest music is coming back, saying, "I think we're just starting to wake up."
Hurray for the Riff Raff's "The Body Electric" does some good work contributing to this reawakening. It reflects many of the present movements for women's and black rights. Its lyrical content is heavy and hauntingly beautiful: "Oh, and tell me what's a man with a rifle in his hand / Gonna do for a world that's so sick and sad?" Segarra sings. She told NPR she hopes the song "breathes power and humanity back into all people who feel targeted by violence and oppression, whether they exist in our old stories and songs or are marching in protest as we speak."
10. Yasiin Bey
Rapper Yasiin Bey, formerly known as Mos Def, essentially founded modern politically conscious hip-hop. Throughout his long career, he's been one of the most globally minded protest artists in the genre, tackling global poverty, racism, war and war crimes.
On his most recent album, he broke down the need for all politically minded activists to understand history in order address the ills facing the future with songs like "History" and "Revelations." He's woven this messages throughout his recent statements on Ferguson, seeing issues in a larger historical context: "We're at watershed moment for humanity. I imagine we've been here before and I imagine we've probably been here longer than we realize." He feels that our present desire for revolutionary change is not new, the urgency is simply "reaffirming" itself.
Source: Soundcloud
He's also put his body through the ringer to add potency to his statements. Earlier this year, he suffered through a force-feeding torture that Guantanamo Bay prison guards have used against hunger-protesting Muslim prisoners during Ramadan. It's a difficult video to watch, but it puts a painful emphasis on our need to take action to end this brutality.
11. Tune-Yards
The colorful, playful, puppet-show aesthetic of Tune-Yards' live shows and videos does not immediately suggest protest music. And yet their music is some of the most surprisingly radical of the year. Nikki Nack is filled with catchy, highly danceable protest anthems dissecting racism, classism and sexism. "I come from the land of slaves / Let's go Redskins let's go Braves," Tune-Yard's lead singer Merrill Garbus chants on "Real Thing."
On "Manchild," she discusses women's issues and the darker ambiguities of rape culture in no uncertain language: "Not gonna say yes when what I really mean is no / Not gonna say no unless you know I mean it." 
Nikki Nack proves that protest music does not need to be dark or heavy-handed. It can be as bright, bouncy and invigorating as any pop tune.
12. Joey Bada$$
Joey Bada$$ knows exactly what music can do for society during dark times. "Sixty years ago we had speakers, we had civil rights leaders and these people were famous on a rock star level," he told BBC Radio 1 after the Ferguson grand jury decision was released. "Now today we don't have these leaders. The people now who have the power to move people are rappers. These rappers are not taking the responsibility that they really need to be taking."
In promoting his upcoming album, Joey Bada$$ has moved his political radicalism to the very forefront of his sound. In his most recent video, "No. 99," released last week, he takes aim at the entirety of the American justice system: "Yo, this shit is intense, a dumb cop stoppin' me, probably / Cause he's still livin' in the past tense, how shit was back then / They wanna see the downfall of all black men." 
His music is far more radical and violent than most of the music from other artists on this list. The album B4.DA.$$, set to drop Jan. 20, will make an undoubtedly powerful statement. It should set the tone that the rest of the year's political hip-hop offerings will have to match.
13. D'Angelo
"Black Messiah is a hell of an album name," D'Angelo recently admitted in a written statement accompanying the release, "For me, the title is about all of us. It's about the world. It's about an idea we can all aspire to. We should all aspire to be a Black Messiah." In that same statement he gives a nod to Ferguson, Egypt and Occupy Wall Street and "every place where a community has had enough and decides to make change happen." 
The album's most powerful protest statement comes on "The Charade": "All we wanted was a chance to talk / 'stead we only got outlined in chalk," he sings on the album's chorus, "Feet have bled, a million miles we've walked / Revealing at the end of the day the charade." 
The song is ultimately uplifting, though, a reminder that inequities may run rampant in our culture, but music is always there as a counterweight.