Protesters Are Shutting Down the Oakland Police Department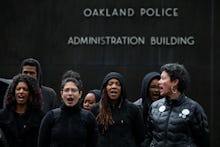 Americans are not backing down. At 7:30 a.m. on Monday, black activists shut down the Oakland, California, police headquarters in yet another effort to protest police discrimination and violence. Hundreds of people, mostly clad in black clothing, flooded the street and dozens were arrested.
The goal: To protest for four hours and 28 minutes. The four hours represent the amount of time that unarmed black teenager Michael Brown lay on the ground in Ferguson after being shot. The other 28 minutes reflect the fact that every 28 hours, a police officer or vigilante kills a black person. 
Black activist group Blackout Collective organized the protest, which drew more than 250 people. A crowd gathered in front of the entrance of the Oakland Police Department, delaying its opening.
Dressed in head-to-toe black outfits, the protesters raised their fists in the air in a display of solidarity.
One protester scaled the police station's flagpole to hang a banner emblazoned with the images of the unarmed black people who have been killed by police.
The protesters did not stop at blocking the entrance to the police station. Intersections surrounding the area were also blocked during the four-and-a-half-hour rally.
The protest waged on for the full four hours and 28 minutes, ending Monday afternoon shortly after noon Pacific time.
Even though the cases that sparked the protests – namely the Eric Garner and Michael Brown grand jury rulings – happened on the other side of the country, this isn't the first time that Oakland has stepped up and spoken out. On Saturday, thousands of protesters took to the streets in Oakland and San Francisco, resulting in the arrest of 45 people. 
Oakland isn't the only city taking action. Over the past several months, protests have erupted across the country and in just about every major city in the U.S. When an unarmed black person is killed by the police every 28 hours, that reveals just how big the problems of police brutality and racial inequality have become.