Lynching Never Went Away in America — It Just Changed Its Name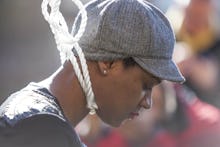 On Saturday morning, students at the University of California, Berkeley woke to find this hanging from the Sather Gate entrance to campus:
An artists' collective claimed responsibility for the effigy, an effort to draw attention to police killings of unarmed black people in the U.S.
Such symbolism is especially potent of late. In November, church leaders and activists in North Carolina called for a federal investigation into the hanging of Lennon Lacy, a 17-year-old black high school student whose death was ruled a suicide but raised suspicion of foul play in the small town of Bladenboro.
Supporters marched on Saturday to draw attention to his death:
"I feel the ... investigators interrogated me," Lacy's mother, Claudia Lacy, told the Guardian last month regarding the inquiry. "They were not trying to find out the truth of what happened to my son, they were pushing toward a verdict of suicide."
In case after case, reporters, op-ed writers and observers across the globe have increasingly drawn parallels between the police killings of Eric Garner and Michael Brown and the systematic lynching of black people in the late 19th and early 20th centuries.
"For the most banal of missteps, the penalty could be an hours-long spectacle of torture and lynching," writes Isabel Wilkerson at the Guardian. "No trial, no jury, no judge, no appeal. ... [Now] the rate of police killings of black Americans is nearly the same as the rate of lynchings in the early decades of the 20th century."
Heavy-handed, perhaps? It seems so at first. But when you look at the social function of these extra-judicial killings, the similarities linking them, past and present, are astounding. 
One thing to remember about lynchings under Jim Crow is that they typically occurred with the law's complicity. They happened in lieu of criminal trials, and often rested on the most absurd accusations and alleged character infractions: speaking to white women, stealing tiny amounts of money. Famously, in 1955, 14-year-old Emmett Till was kidnapped, beaten, shot in the head and left in a river for allegedly whistling at a white woman.
Police rarely interfered to stop this violence. Even after the lynchings occurred, The Daily Kos' Shaun King writes, "Little legal interest truly existed in bringing the perpetrators to justice." The Guardian's Wilkerson points out, "Sheriffs were often actively involved, in attendance or chose not to intercede."
Meanwhile, today, the demonization of black victims is similarly used to justify their violent deaths: Mike Brown was an accused thief and "no angel," whom his killer, Officer Darren Wilson, also described as a "demon." Eric Garner was allegedly doing wrong by selling untaxed cigarettes.
And in all cases, the perpetrators got off scot-free for killing these men, while the highly public and overwrought violence of their deaths (shot six times and left in the street and choked to death on camera, respectively) eerily match the legal callousness and carnival atmosphere of Jim Crow-era lynchings — which drew power from the horrific visual warning they provided, and the leering crowds of spectators they drew, police included.
In some cases, people even made post cards of these "events."
The message is abundantly clear: Today, as much as ever, the routine extra-judicial killing of black people is intimately tied to police complicity. Legal due process is suspended for gut reactions, rooted in fear — as when Cleveland Officer Timothy Loehmann shot 12-year-old Tamir Rice within two seconds of arriving in the park where he was playing alone with a toy gun. 
And few of those responsible actually face consequences; police who killed Garner and Brown, plus countless others in the preceding years, were either acquitted of criminal charges or never charged at all.
Now, with people across America drawing this connection, from artists and protesters in the Bay Area to rightly suspicious activists in North Carolina, perhaps our characterization of these incidents needs to change. Perhaps instead of calling them failures of an otherwise functioning justice system, it's more helpful, and accurate, to speak of them in terms of the age-old lynching practices they undeniably mirror.
And finally, perhaps instead of shying away from these comparisons — between the barbaric practices of America's past, and those of its present — we should make them far more often. Because in doing so lies the truth of the matter: These practices aren't the periodic screw-ups of a few racist cops, or relics of a bygone era. They're part of a system that's been functioning this way for hundreds of years and has not gone away.