Watch the 16 Most Memorable Moments From 'The Colbert Report' as the Show Comes to an End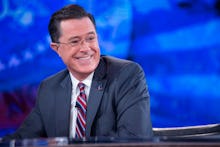 Nine years after making his debut as a well-intentioned right-wing buffoon on The Colbert Report, Stephen Colbert is leaving Comedy Central for network television, where he will take over for David Letterman hosting The Late Show on CBS sometime next year. The last episode airs Thursday.
But as the show draws to an end, we're losing more than just The Colbert Report. We also say goodbye to Colbert the brilliantly crafted character, the bombastic faux-conservative cable news host and speaker of "truthiness" to power. He, the real Colbert says, will die with the show.
Thursday's much-anticipated finale caps the comedian's unparalleled run as America's most influential and eloquent satirist. He's taken apart politicians from both parties and done as much as anyone to explain the absurd state of arcane policy matters like campaign finance. As the Washington Post reported this summer, multiple studies have shown that Colbert's viewers both understand the system better and are more likely to use the show as a "gateway" to more serious news consumption.
Consistently funny, often ridiculous and always ruthlessly intelligent, Colbert the character will be missed. So before he goes (and after he's gone), let's enjoy his greatest hits. Here are 16 hilarious Colbert Report clips that we'll remember for years to come:
1. Colbert coins "truthiness," and changes how America talks about politics.
The night it all began. Colbert introduced us to his most lasting segment, "The Wørd," during his debut show in 2005. "Truthiness" ended up being voted the American Dialect Society's 2005 "Word of the Year" and, by 2006, had found its place in the Merriam-Webster dictionary. 
"I don't trust books. They're all fact, no heart," Colbert said. "We are divided between those who think with their head and those who know with their heart."
"The Truthiness," he explained, "is that anyone can read the news to you. I promise to feel the news at you."
2. Indecision 2008: Colbert announces his run for president.
"After 15 minutes of soul-searching, Stephen announces his bid to run for president."
We're surprised it took him so long, given the state of the 2008 Republican field. Former Sen. Fred Thompson (R-Tenn.) reassuring voters that he sees "no reason to believe we're headed for an economic downturn" as the worst economic downturn since the Great Depression approached is equal parts hilarious and terribly depressing.
3. Stephen "hands off" his super PAC to Jon Stewart.
No one did a better job of explaining the vagaries of campaign finance law than Colbert and co-conspirators like old boss Jon Stewart. In this bit, Colbert brings on a former Federal Election Commission chairman to walk him through the "hand-off" of his super PAC — Americans for a Better Tomorrow, Tomorrow — to Stewart, who dubbed it "The Definitely Not Coordinating With Stephen Colbert Super PAC."
4. The Colbert Super PAC's Mitt Romney attack ad
Just four days later, Colbert introduced this ad from his former super PAC. In this segment, Colbert plays an attack ad that asks, "Is Mitt Romney a serial killer?" The authors of the scurrilous spot? Well, none other than "a shadowy outside group calling itself the 'Definitely Not Coordinating With Stephen Colbert Super PAC.'"
In less than 10 minutes of airtime over two nights, Colbert laid bare the fundamental inequity and flat-out bullshit that defines post-Citizens United campaign finance law.
5. A "navigator" tries to help Colbert sign up for Obamacare.
Poor Debbie.
Colbert sits down with the food bank volunteer-turned-Obamacare "navigator" with the intention of signing up for coverage using HealthCare.Gov. Colbert begins by asking they "establish a safe word — 'pumpkin patch'" at the beginning. And it just gets better from there.
This segment aired during the height of the Obamacare website disaster. For months, the poorly designed web portal stalled and crashed, making enrollment impossible for millions (it would eventually be sorted and those affected were offered extra time to find a plan). Republicans, predictably, took full advantage, ripping the administration for the messy rollout. Health and Human Services Secretary Kathleen Sebelius left her post soon after the first open enrollment period ended.
6. Better Know a District: D.C.'s Eleanor Holmes Norton FTW
The "28th installment" of the Colbert Report's "Better Know a District" series was undoubtedly its best. Washington, D.C.'s no-nonsense non-voting congressional delegate Eleanor Holmes Norton did not appear to be in on the joke, but no worries: She roasts and toasts Colbert, giving him a proper "civics lesson."
The interview, which mostly turned on Colbert teasing Holmes Norton about D.C.'s being denied a vote in Congress, is especially relevant today. Just days ago, the House of Representatives and the Senate, with D.C.'s delegate legally sidelined, passed a spending bill that essentially overruled the elective will of the people and blocked the enactment of a ballot measure that legalized marijuana in Washington, D.C.
7. Colbert calls BS on California's "handsome" lieutenant governor.
Colbert's very own "Valentine's Day Massacre." It's also probably the best political interview of the decade. California Lt. Gov. Gavin Newsom, the former San Francisco mayor, went on to promote his public policy book, Citizenville. Colbert was not buying Newsom's TED Talk-style schtick.
Newsom: "The whole idea is this: Right now we have a broadcast model of governing. You vote and I decide. You understand this intimately. You've seen the contours of this change with the media, you've seen it, certainly, in the music industry. Big is getting small, small is getting big. Technology has the ability to level the playing field—
Colbert: "What the fuck does any of that mean? ... The big is getting small and the small is getting big? What are you talking about? Is there a glossary [in the book]? Is there a bullshit translator?"
8. Breaking down Republicans' "inspiring" climate change message
Colbert in its purest form. On the day after Republicans swept into power in the Senate, a shift that means climate change denier Sen. James Inhofe (R-Okla.) will soon take over the Environment and Public Works Committee, Colbert "celebrated" the news like a proud Fox News anchor.
 "Finally, the committee can focus on important issues," he said, "like who's stealing all our polar bears."
9. Better Know a District: Florida Rep. Robert Wexler "enjoys cocaine."
Rep. Robert Wexler (D-Fla.) was running unopposed to keep his seat as the congressman from Florida's 19th District. So Colbert played a little game with him. Why not say a bunch of things that, had there been an opponent, might cause Wexler to lose. Colbert teed him up: "I enjoy cocaine because..." 
"I enjoy cocaine," Wexler, surprisingly game, said, "because it's a fun thing to do."
Then, after another prompt: "I enjoy the company of prostitutes for the following reasons: Because it's a fun thing to do, much like cocaine. If you combine the two together, it's probably even more fun."
Predictably, some news media ran credulous clips of Wexler's comments. Colbert defended (and endorsed!) him on the show a few days later.
10. Colbert responds to getting Daft Punk'd.
The Colbert Report had booked French techno stars Daft Punk to perform on the early August show (flashback: their album Random Access Memories was, along with Kanye West's Yeezus, the most popular of summer 2013), but Viacom, the parent company of Comedy Central and MTV, had also scheduled them for the upcoming Video Music Awards. Viacom told Daft Punk to choose. And they chose, in Colbert's own words, "not mine." 
Spoiler: The show was better without them.
11. People Who Are Destroying America: Johnny Cummings, the gay mayor "destroying" America
Colbert's interview with Vicco, Kentucky's openly gay mayor Johnny Cummings (and a whole bunch of his very white, but still very colorful constituents) was, by many accounts, the show's "best segment ever." 
Maybe, maybe not, but it is truly something to behold. The interviews with Cummings' constituents are simply magical.
12. The Word: Due or Die — Why it's legal to kill Americans overseas!
No one can accuse Colbert of blinkered partisanship. In another blistering takedown aimed at a Democrat, he attempted to define when it is legal for the U.S. government to kill Americans overseas. The bit ran as the debate over President Barack Obama's drone killing program was just ramping up, but before the New York Times ran its stunning expose. The lack of oversight or judicial backing (beyond a blessing from the notoriously spineless Office of Legal Counsel) had human rights activists calling the strikes illegal and in defiance of international law. 
Lucky for us, Colbert was there to break it down: "The current process is apparently, first the president meets with advisers and decides who he can kill. Then he kills them."
Simple!
13. "Who's Attacking Me Now?" Colbert reacts to #CancelColbert.
One of the show's rare missteps. A member of the Colbert Report's social media team tweeted a "joke" related to an earlier takedown of the Washington Redskins organization's embarrassing efforts to endear itself to the Native American community. The tweet was published from the since-retired @ColbertReport — not Stephen's personal account, @StephenAtHome — devoid of any context, reading: "I am willing to show #Asian community I care by introducing the Ching-Chong Ding-Dong Foundation for Sensitivity to Orientals or Whatever." Oof. 
Suey Park, an online activist, took notice and started a hashtag, #CancelColbert. Here we see Colbert explain what went wrong, apologize, skewer the coverage and, ultimately, do the right thing and call out the trolls who began to harass Park after the campaign gained traction.
14. Teleprompter-mocking Sarah Palin reads notes off her hand.
Almost too easy. Just minutes after dismissing President Obama as "some charismatic guy with a teleprompter," former Alaska Gov. Sarah Palin was caught on tape at the National Tea Party Convention reading notes she'd written on her hand during a friendly post-speech Q&A.
As Colbert notes, Palin's "hand-o-prompter" just proves she's an "average Jane," not like "those elites and their memory." Hard to argue with that.
15. Stephen steps up to defend Fox News' "Papa Bear" Bill O'Reilly.
We all remember where we were and what we were doing when that two-decade-old video of former Inside Edition co-host and current Fox News anchor "Papa Bear" Bill O'Reilly first made the Internet rounds. Well, Colbert wasn't about to let the haters take down the man his character cared for so dearly. He spoke up in defense of O'Reilly and the terrifying and wonderful "We'll do it live!" video.
16. President Obama orders Colbert to have his head shaved.
During a visit to Iraq in summer 2008, Colbert took part in a few basic training exercises. But as his guest, Gen. Ray Odierno, pointed out, the well-coiffed host had failed to meet one basic requirement.
And with that, President Obama's head appeared on a large monitor above to set it right. 
"General, as commander-in-chief, I hereby order you to shave that mans's head," Obama said.
Odierno, the four-star general, followed orders and broke out the clippers.
Saying goodbye: What happens next is a bit of a mystery. It is difficult to imagine the guy who delivered that searing roast of then-President George W. Bush at the 2006 White House Correspondents' Dinner presiding over "Stupid Pet Tricks." Colbert is blessed with a deep reserve of talent and a miraculous work ethic. We don't know exactly when he will return to nightly television — Letterman signs off on May 15, so it's at least six months away — but it's a safe bet he will bring something new, interesting and, of course, wickedly funny.