Gorgeous Plus-Size Photos Send a Powerful Reminder That All Bodies Are Beautiful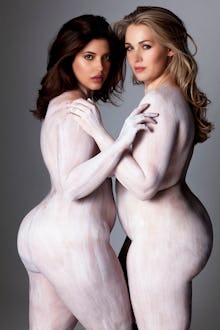 Raise your hand if you know what "plus size" actually means.
Does it start at a size 14? Is it size 12? Does it even include size 10, as Calvin Klein alleged? The reality is that no one knows for certain, and that's because creating universal standards for women's bodies draws unnecessary distinctions between some women... and completely overlooks others.
Victoria Janashvili realized this after years of working with fashion models. The New York-based photographer, who works with everyone from swimsuit brands to GQ, has seen the demand for so-called plus-size models grow in recent years. But she told Mic that the rising popularity of the term has had an unintended consequence: the isolation of plus-size models and, additionally, the erasure of women who fall outside the limiting label — aka, anyone between sizes 2 and 14.
"I can tell you from personal experience, from a casting two weeks ago, I was shocked that there were no girls that would fit the size 6 look," Janashvili said, recalling a casting in which she struggled to find models size 6 or 8. 
The problem, she said, can be traced back to modeling agencies. "The straight-size board [at agencies] is usually sizes 0 to maybe 4, and the plus size is 10 to 16. And it's been marketed this way for a really long time," said Janashvili. Demand for models in the middle is still relatively low, so the agencies are not considering many "inbetweenies," or women between the "straight" and "plus" sizes.
"I'm really against all of those terms," Janashvili said. "I think if it's just a beautiful woman, it's a beautiful woman." It's that belief that inspired the photographer to create Curves, an art photography book currently raising money on Kickstarter. 
The book, a four-year work in progress, is the result of multiple photo shoots with 80 women of all shapes, sizes, colors and ages. "Plus-size" models feature prominently, but so do slender women; one of the models is actually an Olympic gymnast (read: all muscle). Two of the models, Denise Bidot and Marina Bulatkina, posed for the book as part of a white paint-covered shoot that's already been widely praised for its body-positive message. 
"I chose Denise and Marina for this particular photo shoot because they're just so different," Janashvili said. "For example, Denise is a lot shorter than a lot of models would be out there. Marina is really, really curvy. ... But these girls are getting the spotlight because they're awesome, have beautiful personalities and look absolutely stunning, and not because they necessarily fit the most criteria." 
Unfortunately, strict physical criteria is often what excludes models from the pages of our fashion magazines and ads. The ultra-slender standard is still the predominant one, as one glance at the Fashion Week runways proves; but what most people don't realize is that even the curvier models are forced to fit a certain image. 
Plus-size models like Marquita Pring have admitted to using padding to fit clients' unusually large size requirements; Sabina Karlsson recently showed her pads to Refinery29, explaining that they round out her size 12 figure to a 14 or 16 for shoots.
If size 12 isn't big enough for plus-size, you can bet size 10 model Myla Dalbesio has a hard time finding gigs. Dalbesio was the model at the center of the Calvin Klein kerfuffle, when Elle.com referred to her as "what the fashion industry would — still, surprisingly — call 'plus size.'" But Dalbesio is actually an "inbetweenie." And, as Janashvili told Mic, excessive emphasis on plus-size does a disservice to these models, too. 
"One of the things I'm trying to do with my book is trying to get out of [labeling]," she said. "It's very hard to talk about the subject without using the plus-size term. But the term is obviously horrible... It's so important to have models of all sizes, because girls will actually identify themselves with the beautiful images and try to feel beautiful and worthy."
h/t Cosmopolitan.com