One Year Later, 'Blackfish' Finally Hit SeaWorld Where It Hurts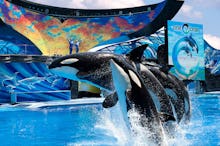 The news: In yet more evidence that Blackfish has mortally wounded the current incarnation of SeaWorld, late last week the company's CEO resigned after announcing that major changes would be coming after yet another bad quarter.
Outside Online reports that CEO Jim Atchison, who has been the head of the company since 2009, is resigning "amid tanking revenues." Since SeaWorld admitted plummeting attendance numbers in August, stock has fallen from over $26 then to less than $16 now. NBC San Diego reports that the company's third-quarter earnings were down 28% from 2013, while attendance had declined 5.6% to 8.4 million over the same time period. Just a year earlier, SeaWorld's third-quarter attendance was just short of 9 million.
Who's to blame? The culprit is likely the terrible PR fallout from exposés of the company's terrible treatment of its animals, specifically the wildly popular documentary Blackfish. The 2013 film focused on the death of three people by a male orca named Tilikum and further contested that SeaWorld and other parks' confinement of the orcas is inhumane, pointing to the premature deaths and psychological distress experienced by SeaWorld orcas in captivity.
Ultimately, the movie received rave reviews. The Arizona Republic's Bill Goodykoontz called Blackfish "a disturbing movie, one that will make you rethink parks like SeaWorld and their value," while the New York Times' Jeanette Catsollis wrote that a "narrative driven by disillusion and regret unfolds as the trainers point to a gap between SeaWorld's public image and behind-the-scenes reality." Some 20 million people watched its TV premiere.
The fallout: SeaWorld did not address the Blackfish criticism in the press release concerning Atchison's resignation on its web site. However, the company has hit back in the past, insisting that the film used misleading and selectively edited footage to portray its practices as inhumane and that former SeaWorld personnel interviewed in the film were not up-to-date with updated procedures. Zoological operations director Michael Scarpuzzi argued on CNN that the documentary ignored the company's positive ecological impact to sell tickets.
But one thing is clear, Blackfish has seriously hurt the company's bottom line and perhaps even its future. After the company bragged about surging profits at the beginning of the year, serious trouble at SeaWorld was apparent by May and now has lost 50% of its value since going public in April 2013. SeaWorld can't even book musical acts. With revenues continuing to decline even after an intense PR effort, this is good news for people interested in conservation and the welfare of its whales. Without some radical changes, this may even be the beginning of the end for SeaWorld.
Correction: Dec. 17, 2014