Elizabeth Warren Just Took a Major Stand Against the FDA's Homophobia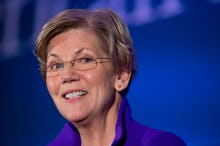 Elizabeth Warren has a serious problem with the FDA's serious problem with gay men's blood. 
Mother Jones reports that 80 U.S. senators and representatives have joined a coalition sponsored by the Massachusetts senator that seeks to force the FDA into repealing its decades-long ban on gay blood donation, a move that would both end a lingering homophobic myth and create hundreds of thousands of new blood donors.
"Our current blood donation policy prevents many healthy gay and bisexual men from donating blood for their entire lives," the congresspeople wrote in a letter to the FDA. "The proposed policy change would, in practice, leave that lifetime ban in place for the vast majority of MSM [men who have sex with men], even those who are healthy and low-risk. Both policies are discriminatory, and both approaches are unacceptable. Low-risk individuals who wish to donate blood and help to save lives should not be categorically excluded because of outdated stereotypes."
"The blood bank community, the American Medical Association and the Advisory Committee on Blood and Tissue Safety and Availability have all recognized that the current lifetime deferral for MSM is unwarranted." Later, the letter insists "Science has shown us that our current policy is not justified."
The background: The ban has been in place since 1983 and affects every male who has had sex with another male at any point in their life, which Mother Jones'  Patrick Caldwell explains was instituted before the AIDS epidemic was well-understood. In 1983, Reagan officials were still literally laughing about the ongoing spread of HIV, which at the time was beginning to ravage the gay community. Former Surgeon General Everett C. Koop once said that presidential advisers "took the stand, 'They are only getting what they justly deserve.'"
Perhaps in a time when the disease spreading among America's LGBT population was a mystery, the ban was more justifiable. But modern medicine now enables doctors to detect the HIV virus within two weeks of the time of infection, and the American Medical Association insists that with widespread testing of all donated blood the ban is an anachronism. In 2013 it voted to oppose the FDA's policy as blood banks around the country began running low on badly needed reserves.
"The policy was formed at a time in our history when we didn't have a name for AIDS or HIV," Robert Valadez of the advocacy group Gay Men's Health Crisis told ABC News last year. "Our technology has advanced to the point where ... it is antiquated to keep this policy in place and to keep those units of blood from entering the blood supply."
Why you should care: According to a report by UCLA's Williams Institute, lifting the blood ban could assist over 1.8 million life-saving procedures every year. 
Though the FDA already proposed modifying the ban to only exclude men who've had sex with other men in the past year, Warren's coalition said this was inadequate and that would essentially bar sexually active MSM from donating. 
"Such a policy still prevents many low-risk individuals from donating blood," the coalition wrote. "If we are serious about protecting and enhancing our nation's blood supply, we must embrace science and reject outdated stereotypes." 
Now, with high-profile figures pushing the FDA, there might finally be some serious change. And that's good news, whether your interest in seeing the ban end comes from the heart or from a greater supply of the stuff that runs through it.