Scores Killed in Bloody Taliban Attack on Pakistani School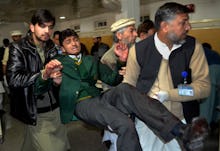 Update, 9:27 am ET: A Pakistani army operation to rescue students has come to a close. Military forces have cleared the school and killed nine Taliban gunmen, a military source tells Reuters.
This is one of the bloodiest insurgent attacks to strike Pakistan in years. A military source told NBC News that "there were at least 10 attackers wearing police uniforms and suicide vests." 
"As soon as the firing started, we ran to our classrooms," Mussadir Awan, a lab assistant at the school, told the BBC: "A party was being held for classes nine and 10, and so a small number of children were there. On the upper floor, exams were being held for classes 11 and 12. ... I saw the attackers. There were six or seven men. They were entering every class and they were beating the children."
The Taliban movement immediately claimed responsibility. "We selected the army's school for the attack because the government is targeting our families and females," Taliban spokesman Muhammad Umar Khorasani said in a statement released to the press. "We want them to feel the pain."
U.S. Ambassador Richard Olson extended his condolences to the families of victims and condemned the attack in a statement. 
"On behalf of the American people, U.S. Ambassador Richard Olson extends the deepest sympathies and condolences to the families of the victims of Tuesday's heinous attack on the Army Public School in Peshawar," said Olson. "The United States strongly condemns senseless and inhumane attacks on innocent students and educators and stands in solidarity with the people of Pakistan and all who fight the menace of terrorism."
This is a developing story. Check back and follow @World_Mic on Twitter for the latest updates.