One Awful Senator Is Blocking a Bill That Could Save Countless Veterans' Lives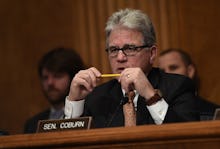 Americans have always regarded the last acts of our public figures with a kind of romance. Politics can be a cynical business, but there's something alluring about how these often inscrutable figures choose to leave the stage.
So when you look back at the blustering but mostly inconsequential career of retiring Sen. Tom Coburn (R-Okla.), please remember this one thing: In the end, he took care of himself. He chose his own ideology over material aid to tens of thousands of desperate war veterans suffering from post-traumatic stress in the wake of multiple deployments to the bleak and bloody battlefields of Iraq and Afghanistan.
Playing politics: Coburn, with his final act of senatorial discretion, is blocking the Clay Hunt Suicide Prevention for American Veterans Act, aimed at reducing the staggering number of suicides by veterans. The cost — $22 million, when 22 veterans kill themselves every single day — is too great, he said. If you don't have a calculator handy, that's approximately .0001% of the $2 trillion the U.S. has already paid for the wars in Iraq and Afghanistan.
"This is why people hate Washington," Paul Rieckhoff, founder and CEO of Iraq and Afghanistan Veterans of America, said in a statement Monday. "Sen. Coburn is the only person stopping this bill from becoming law."
The bipartisan legislation would, per the Associated Press, "require the Pentagon and Veterans Affairs Department to submit to independent reviews of their suicide prevention programs. It also would establish a website to provide information on mental health services available to veterans, offer financial incentives to psychiatrists who agree to work for the VA and create a pilot program to assist veterans transitioning from active duty to veteran status."
"I don't think this bill would do the first thing to change what's happening," Coburn said Monday, despite increasing evidence that Internet portals can be game-changing tools for supporting suicidal vets. Coburn's office did not return a request for comment.
For Clay Hunt, the veteran whose name guides the bill, it is already too late. Hunt served multiple tours in Iraq and Afghanistan, returning home only to head out again to Haiti, in 2010, to do humanitarian work after the poor island nation was hit by a catastrophic earthquake. A year later, back home in Houston, it was hard for him to get appointments with a VA psychiatrist and difficult to fill prescriptions after he was seen.
The 28-year-old committed suicide on March 31, 2011.
Here is Hunt's mother, Susan Selke, testifying about her son's struggle during a hear on Capitol Hill this summer:
Hunt's parents had personally reached out to Coburn in the past few days, but failed to sway him. Sen. Richard Blumenthal (D-Conn.) will reintroduce the bill when the new Congress convenes early next year. 
But as the IAVA's Rieckhoff said in his statement, it is already too late.
"If it takes 90 days to revisit this issue in the next Congress," Rieckhoff said, "the statistics tell us that 1,980 additional veterans will die by suicide."
Those will be final acts to remember. Coburn is a man to forget.