This NFL Star Had the Perfect Response to Cops Who Shamed Him for His Tamir Rice Shirt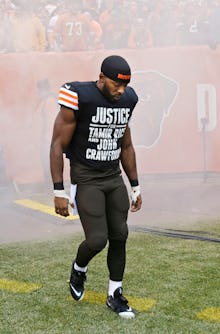 Racial tensions have been at a boiling point for weeks across the country, with nonstop protests in the aftermath of police killings involving unarmed black people. 
And a growing number of professional athletes have begun using their platforms to raise awareness about the issue — but not everyone is pleased. Police organizations in particular have been quick to push back when they speak out. 
Cleveland Browns wide receiver Andrew Hawkins experienced this backlash firsthand after being slammed by the Cleveland Police Union for a "pathetic" act of protest Sunday during pregame warmups. Hawkins wore a black-and-white T-shirt calling for justice for Tamir Rice and John Crawford, two unarmed black people recently killed by police in Ohio. 
But Hawkins didn't back down.
Although the union demanded an apology, saying Hawkins and other athletes should "stick to what they know on the field," Hawkins responded with a powerful locker room lecture Monday evening. It should be required reading for anyone concerned about police brutality, either in Cleveland or around the country.
"I was taught that justice is a right that every American should have. Also justice should be the goal of every American. I think that's what makes this country," Hawkins told reporters, according to ESPN Cleveland. "Ultimately, it means fair treatment. So a call for justice shouldn't offend or disrespect anybody. A call for justice shouldn't warrant an apology."
Hawkins has a point. His T-shirt asks for accountability in the killings, but it isn't an indictment of police in general. And just like any other concerned citizen, a professional athlete has the right to respectfully express their views on social issues. 
But Hawkins also understands that there's a lot more at stake for black people than most others might realize.
"Unfortunately, my mom also taught me just as there are good police officers, there are some not-so-good police officers that would assume the worst of me without knowing anything about me for reasons I can't control," he said, according to ESPN Cleveland. "She taught me to be careful and be on the lookout for those not-so-good police officers because they could potentially do me harm and most times without consequences. Those are the police officers that should be offended."
However, the police union in Cleveland didn't feel the same way about his T-shirt. "He's an athlete. He's someone with no facts of the case whatsoever," union president Jeff Follmer said in a statement to the Cleveland Plain-Dealer. "He's disrespecting the police on a job that we had to do and make a split-second decision."
But here, too, Hawkins has an answer for his detractors. This isn't about minimizing the dangers of an officer's job, he said, it's about holding law enforcement to a higher standard. "If the wrong decision is made, based on pre-conceived notions or the wrong motives, I believe there should be consequence," he said. "Because without consequence, naturally the magnitude of the snap decisions is lessened, whether consciously or unconsciously."
Hawkins isn't alone. Acting alongside thousands of protesters have lined the streets nationwide, many athletes are using their celebrity status to make their voices heard. During pregame warmups, NBA players including LeBron James, Kobe Bryant, Jeremy Lin and many others have worn shirts saying "I can't breathe," a nod to Eric Garner's final words. 
And days after a grand jury declined to indict Officer Darren Wilson in the shooting death of Michael Brown, in Ferguson, Missouri, a group of players from the St. Louis Rams entered the field for a Nov. 30 game in the "hands up, don't shoot" pose. Just as in Cleveland, the St. Louis Police Officers Association quickly rebuked the action, calling for the Rams to discipline the players and an apology from the NFL. They also didn't get their wish. 
It's unfortunate that some police organizations feel the need to publicly rail against professional athletes exercising their right to freedom of speech. Hopefully, Hawkins' eloquent response will serve as a much-needed wake-up call for any police officers feeling attacked by such demonstrations. As the NFL star points out, only through productive discourse and honest accountability will police officers be able to earn back the trust of those they've sworn to serve and protect.