Jeb Bush Just Announced That He Will "Actively Explore" Running for President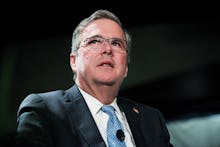 Former Florida Gov. Jeb Bush announced via a Facebook note published Tuesday morning that he has "decided to actively explore the possibility of running for president of the United States."
Bush is the brother of one former president, George W., son of another, George H.W., and the first upper-tier establishment Republican to formally state his interest in running for the party's nomination in 2016.  
While the timing of the announcement might be surprising to some political observers, Bush took a major step in this direction over the weekend. During an interview with a Florida television station Sunday, he revealed plans to make public more than 250,000 emails from his time as governor and to publish an e-book on his public policy views in the spring.
The Facebook post goes a step further, laying out specific plans for how his now-inevitable campaign will unfold. 
"In January, I also plan to establish a Leadership PAC that will help me facilitate conversations with citizens across America to discuss the most critical challenges facing our exceptional nation," Bush writes. "The PAC's purpose will be to support leaders, ideas and policies that will expand opportunity and prosperity for all Americans."
Forming a political action committee, or PAC, is crucial to any presidential candidate in the post-Citizens United world of campaign finance. Bush will hand the PAC over to a group of political allies when he formally announces his bid. That group will use the organization to raise money and run a parallel campaign that, according to law, will have no connection to Bush's own operation.
With this announcement, Bush will enter the new year as the GOP front-runner, fast-tracking talk of a Bush-Clinton rematch. Former President Bill Clinton defeated Jeb's dad, former President George H.W. Bush, in the 1992 election. Former first lady Hillary Clinton, of course, is the presumptive Democratic nominee. In the years following the election, however, the rival families have become close through a decade of shared philanthropic work.
That friendship, though, will likely take a backseat to the battle ahead.
Here is the full text of the announcement: