Meet the Hero Who Died Saving 15 Australian Hostages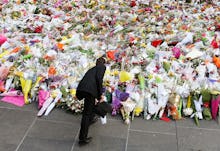 Monday's hostage situation in Sydney will likely be remembered as a profoundly dark day in the country's history. But scattered among the brutality is a glimmer of something else — the heroic story of Tori Johnson, a 34-year-old Lindt café manager who may have saved multiple lives with his actions during the crisis.
Meet Tori Johnson:
Johnson, who lost his life in the siege, was one of 17 hostages trapped inside the Sydney coffee shop by gunman Man Haron Monis. At one point during the 17-hour ordeal, Johnson reportedly realized that Monis was falling asleep, and tried to wrestle the gun from him. Australia's Yahoo News reported that a shot rang out amid the scuffle; once police realized a shot had gone off, they were given orders to storm the building to rescue the hostages.
Though Deputy Police Commissioner Catherine Burn would not comment on Johnson's reported actions, the Australian Broadcasting Corporation reported receiving confirmation from multiple sources that he did indeed attempt "to grab the gunman's weapon when he appeared to be falling asleep."
It's still unclear how Johnson and the siege's second victim, 38-year-old mother of three Katrina Dawson, was killed. 
"We are so proud of our beautiful boy Tori, gone from this Earth but forever in our memories as the most amazing life partner, son and brother we could ever wish for," his family said in a statement.
Who was Tori Johnson? According to friends, he was "a loving, placid and very gentle soul ... a true gentleman." The Sydney Morning Herald noted that he had worked in the Sydney café since 2012, and before then he'd been employed at various restaurants across Australia and the United States.
"Tori was a great guy, a good guy to be around," a former colleague told ABC. "He got on really well with all the staff." Another friend told the outlet, "He was a very selfless manager. He accomplished a lot with the group in the time that he was with us, and he always gave the credit back to the staff."
He wasn't the only person who acted heroically: According to ABC, Katrina Dawson, the other hostage killed in the attack, reportedly shielded her pregnant friend from gunfire.
The New South Wales Bar Association, of which Dawson was a member, said, "Katrina was one of our best and brightest barristers who will be greatly missed by her colleagues and friends at the NSW Bar."
Like Johnson, Dawson's friends had only good things to say about her. "She really stood out as a very warm, happy, friendly person; she was someone you thought would always do well in the world," one told 702 ABC Sydney.
Meanwhile, Australia — and the rest of the world — is still scrambling to decipher what the attack means for the country's future and how it happened in the first place. The gunman, 50-year-old Man Haron Monis, was Iranian, and received asylum in Australia in 1996. He wasn't on a terror watch list, although members of the Muslim community in Sydney described him as "damaged goods" and as someone who appeared to have "a serious mental illness."
"The tragedy of these times is that there are people even in a society such as ours who wish to do us harm," said Australian Prime Minister Tony Abbott during a press conference. "We are not immune to the politically motivated violence, which has for so long stalked other countries."
Monday's attack comes just months after authorities thwarted the largest terror plot in the country's history.
But despite the tragedy, Johnson and Dawson will be remembered for their heroism. As Catholic Archbishop of Sydney Anthony Fisher said at a memorial service, "These heroes were willing to lay down their lives so others might live."