The U.S. Finally Has a New Surgeon General, and You Can Thank Ted Cruz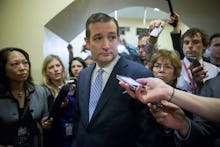 President Obama and congressional Democrats got some big help from an unlikely source this weekend: Sen. Ted Cruz (R-Texas).
No, the tea party favorite didn't have a change of heart and decide to start working across the aisle. Rather, his plan to keep the Senate from adjourning in order to prove a point about immigration backfired horribly (or wonderfully, depending on your political affiliation) when Senate Majority Leader Harry Reid used the extra time to get many of President Obama's political appointees confirmed.
How'd it happen? The Senate was supposed to adjourn on Friday. But Cruz, along with Sen. Mike Lee (R-Utah), had other plans.
They decided to push Senate proceedings into the weekend in order to try and stop funding for President Obama's executive action on immigration. The tactic didn't work (Republicans don't have enough votes to stop the president on immigration, according to Politico), and Democrats used the extra time to put up long-delayed political appointees for confirmation.
That includes Dr. Vivek Murthy, President Obama's pick for surgeon general, whose appointment had been languishing for more than a year thanks to opposition from the gun lobby. He made the mistake of saying that guns can kill people in a 2012 tweet:
Democrats were quick to pile on the thanks.
Republicans were pissed, too, with fellow senators calling the move "ridiculous" and "counterproductive." Cruz and Lee say that the nominees would have been confirmed anyway, but many on both sides say that's not the case. "At some point, Cruz is going to have to stop undermining conservative victories for the sake of getting more press," one Republican aide told Slate. "We had made a lot of progress and he just undid it all for something he knew was not going to be possible."
There's your lasting picture of this year's Congress, where bipartisanship only happens through accidental buffoonery and in reactions to said buffoonery.