This Badass "Bionic" Pop Star Wants to Change How We Think About People With Disabilities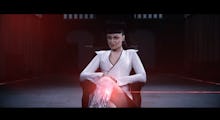 Viktoria Modesta pushes viewers to forget what they know about disability. 
In a commercial during the Sunday finale of The X Factor in the U.K., Channel 4 unveiled a portion of the model and singer's new music video for her electro-pop song "Prototype." 
It's not only her music that stands out, but also a characteristic that clearly sets her apart from most other pop stars: Modesta is an amputee — and she's not apologizing for it.
The video and song for "Prototype" show Modesta owning her power, sexuality and platform in a striking challenge to the pity, confusion and ignorance that has plagued the disabled community for too long.
That ignorance persists because there are relatively few mainstream representations of people with disabilities, and almost none where they lead the way in telling their stories. And that's precisely what the British musician has set out to change. 
In the music video's opening sequence, a young girl watches the singer on television in a reimagined black-and-white cartoon, hearkening back to the days of Betty Boop, positioning Modesta as a mainstream image of beauty. Other moments feature her in steamy exchanges with both a man and a woman, running counter to the ill-conceived notion that those with disabilities can't have sex lives. And although Modesta spends most of the video dancing while outfitted in a black spiked leg, in addition to other unconventional prosthetics, the video's director made a point of showing her without them.
Modesta says she's found it difficult to break through because of her amputation, but it hasn't stopped her from staying true to herself. 
"I think people have always found it hard to know what to think or feel about an amputee who wasn't trying to be an Olympian. In sports, 'overcoming' a disability makes you a hero, but in pop there is no place for these feelings," she said in a statement on her website. "I have never felt comfortable thinking of myself as disabled, and this has inspired me to actively challenge old-fashioned views and create a platform in mainstream pop culture with other artists, where I have always known I belonged."
"Prototype" was created as part of a collaboration with Channel 4's "Born Risky" initiative, which aims to amplify alternative voices. Modesta underwent surgery in 2007 to amputate her left leg below the knee, a choice she made years after an accident at birth affected her mobility. In the years since, she embarked on music career, even capturing the spotlight during the closing ceremonies of the 2012 Summer Paralympic Games in London — where she performed as the Snow Queen during a live Coldplay performance.  
But this new video is perhaps her biggest splash yet.
"I've chosen my own fucking way to do things, unapologetically, and I'm hoping people will react the same way," she told Dazed magazine. "You can think outside the box, move country, marry a person you never thought you would, change jobs. Do something your gut is telling you to do. The closer you can live your life to a movie script, the more exciting it is."
Modesta isn't alone in her quest to foster a broader understanding of what it means to have a physical disability. Alex Minsky, a former Marine who lost part of his right leg after a near-fatal roadside explosion in Afghanistan, emerged from both personal and health struggles to reach a level of fitness that lent toward a second career as an underwear model. And Jillian Mercado, a popular fashion blogger and model who has spastic muscular dystrophy and uses a wheelchair, was featured in campaigns for both Diesel and Nordstrom this year. 
These pioneers are important because they challenge society's stereotypes about people with a certain set of physical or cognitive limitations, more accurately portraying the humans behind the labels. Hopefully, Modesta's story and her performance in "Prototype" will start a much-needed conversation in the entertainment industry to ensure that people with disabilities are represented as the driven, creative and sexual human beings they truly are.