The 'Tony Hawk's Pro Skater' Soundtrack Had an Unexpected Effect on How We Listen to Music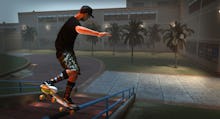 Back in the year 1999, when the edgiest music most middle schoolers heard from the radio was Smash Mouth or Nickelback, the soundtrack to Tony Hawk's Pro Skater was like a shot of pure adrenaline.
When punk rock had mainly become mainstream pop punk, Tony Hawk found a way to sneak subversive modern punk right into middle school living rooms around the country. Goldfinger, The Dead Kennedys, Primus, Suicidal Tendencies, The Vandals — few soundtracks were as mind-expandingly badass 15 years ago. The carefully curated punk, ska and hip-hop playlists of the first few Tony Hawk games shaped our generation's music tastes in countless ways. And as a result, the video game had an unbelievably powerful influence both on our generation's taste and on the entire career of a few key bands.
Punk band Bad Religion claims that the inclusion of their song "You" on THPS 2 is what made them famous. They've since been credited as a major contributor to the punk revival movement along with Green Day and Offspring, who both had songs included in the later Tony Hawk games. Heavy metal legends Motorhead claimed that "Ace of Spades" appearance in THPS 3 gave their aging fan base a huge infusion of youthful energy. Alternative rock band My Chemical Romance once claimed they would not have been a band if not for Tony Hawk's Pro Skater.
But the game's influence was entirely unprecedented. Before Tony Hawk's Pro Skater, games had extremely limited musical palettes. "Video games at the time all had orchestral music,"  Joel Jewett, one of the game's created said. "And we were like, 'Fuck, man, we can pick awesome rock 'n' roll! This is cool shit!' So we spent money on licensing it and sticking it in the game."
The money was well-spent. That music from bands like Anthrax and Rage Against The Machine went a long way in establishing the franchise's long and incredibly lucrative legacy.
"Anyone who knows the game knows the music is just as important as the gameplay," said Ken Overbey, producer/project manager of the 2012 HD reboot of the original game. Overbey and his team agonized over that playlist to make sure it had the perfect balance of nostalgia and fresh content. 
"There isn't a day that goes by and I hear a song where it takes me back to 1999," he said. "I remember sitting in the basement at my house. Every song brings back a memory."
It's a circular kind of nostalgia, though. In many cases, songs in the series made acts famous to the point where, years later, they would be associated with the era. Goldfinger has said getting that song into the game gave their career an unimaginable boost. "Tony Hawk was a fan of the band, and he just asked the label for an odd song that wasn't released on the album, a song that wasn't a big radio thing," Goldfinger lead singer John Feldmann said in an interview with Journey of a Frontman, "Jay just gave him 'Superman' to use and it became, still to this day, our biggest song. I don't think there's another song in any video game in the history of video games that was as relevant for that time period as 'Superman' was."
And the chain of its influence is long. Not only has Tony Hawk influenced future game soundtracks, but it has also launched several promising artistic careers. Rising talents including L.A.-based electronic music producer SELA, rapper Zeus, ska band Night Gaunts and rapper Darko the Super have all discussed the soundtrack in interviews. It either influenced their taste in music or informed their desire to pursue it as a profession.
"Its soundtrack blew my mind," claims visual artist Luke Pelletier, who described how the game opened him up to punk world, which defines his art's aesthetic in a big way. "The songs created a hyper-teenage world. A place with no parents, no rules, no limits, just fun. That game created a paradise. I believed in it."
That punk rock paradise remains with us all. Just a single listen to any one of the tracks will bring anyone right back to that world, where working to unlock "Skate Heaven" while listening to Lagwagon's "May 16" was one of the most thrilling ways to spend an afternoon — where collecting the letters of S-K-A-T-E was so much more consequential than homework. Our generation's musical roots lie in these cuts. They reshaped the current video game and the music scene in some powerful ways. And they shaped us, too.