UPenn Frat Bros Show You Exactly How Not to Make a Christmas Card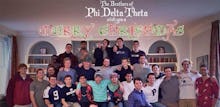 Most people have received a bad Christmas or holiday card at some point, but some frat bros over at the University of Pennsylvania might have just created one of the worst in recent memory.
On Monday, Facebook users were treated to this photo courtesy of Phi Delta Theta featuring a group of mostly Caucasian fraternity members and one black blow-up doll:
An obvious blunder: According to the Daily Pennsylvanian, it's as bad as you might think: The fraternity has even already admitted that the doll is an offensive caricature of Beyonce "originally meant as a gag gift at the group's Secret Santa event."
Because the card was quickly met with outrage on various social media outlets, the fraternity was quick to act and respond to the criticisms. The Daily Pennsylvanian reports that a draft apology signed by "The Brothers of Phi Delta Theta at the University of Pennsylvania" said that the doll was "distasteful" and bore no resemblance to Beyonce beyond its skin color. 
The fraternity further conceded that sending out the photo was really stupid, writing "the absence of racial motivation is no justification for this act of poor judgment, and the decision not to include a sex toy in a holiday picture should have been an easy one."
The response: Campus groups have demanded that the Phi Delta Theta chapter in question be disciplined by a fine and suspension of its rush week activities; some think it would be appropriate for the brothers to attend mandatory "cultural competency" sessions. UPenn students on Twitter were similarly not amused:
In a Tumblr post, UPenn alum Ernest Owens added that during a previous incident less than a year ago when another fraternity and sorority threw a "thug" themed party, Greek members "all played the victim role, arguing that you didn't know any better and that race was not the issue." 
Now, Owens said, they're still insisting they didn't mean to offend when they clearly should have known better and slammed the frat by writing:
Put any color that you wish beside that blow-up doll and it still would appear that you have no respect for the representation of women and your campus. Add the fact that you choose it to be a woman of color and wanted to blatantly showcase that for everyone to see is not just a disregard for how sexist you depict Greek life — it is a grotesque flair of elite white privilege that suggests that you simply don't care.
The takeaway: Given the fact that race relations in America are widely perceived to be stagnating or even getting worse amid national protests over multiple police killings of unarmed black people, these dudes really should have thought a little harder before clicking the lens.
On Monday, Phi Delta Theta's national leadership announced it was investigating the UPenn chapter to determine an appropriate punishment. Still, wouldn't it have been better if these guys had been able to understand why this was so offensive in the first place?