Why January Is Going to Be the Best Month for Single People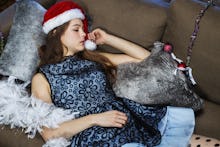 Struggling to make it through "engagement season" without deleting your Facebook account? Take heart, single folks: January could be the best month yet.
Clover, a dating app described as "the offspring of OkCupid and Tinder if they had a one-night stand and forgot to use a condom," has tantalizing new data from a survey of 150,000 users: December has seen a 300% increase in sign-ups from people already in relationships, with women signing up more than men. 
In other words, as a Clover rep put it in a press release, "Our data shows that women are more likely to shop for a new mate over the holidays." 
December is for breaking up... and January is for getting busy? The data isn't conclusive, of course, but Clover's logic points to a preexisting trend. The holiday season has already been referred to as "breakup season" — back in 2008, David McCandless and Lee Byron charted peak breakup times throughout the year via Facebook statuses. Their major finding: Breakups started rising around mid-November (the infamous "turkey drop") and peaked two weeks before Christmas.
November and December might seem like a counterintuitive time to break up, given the cold weather and everyone's compulsive need to snuggle up (see: cuffing season). Plus, the stretch from Thanksgiving to New Year's is also known as engagement season, when couples tend to take stock of their relationships in front of family and friends (and strategically plan for summer weddings).
But all the taking stock that sparks engagements might also explain "breakup season." Heading to your hometown and reconnecting with family can spur some serious thinking about your relationship; as author and sociologist Pepper Schwartz told NBC News, "The holidays put so much weight on everything." Clover reasoned in their press release that financial strain, seasonal depression and peer pressure could also contribute to the serious evaluating that happens at this time of year.
All of which can lead to taking a leap and buying a ring... or realizing it's just not going to work. Hence the spike in dating app activity. It's not just Clover that's seen a boost in signups; Match.com told Today that they also see a 25% to 30% rise in new members in the period around Christmas that stretches to Valentine's Day. 
Whether it's people rebounding from holiday breakups or singles inspired by New Year's resolutions, January is clearly the time to get busy. So don't sweat the lonely holidays, singles: January holds serious promise.