The First 10-Second 'Game of Thrones' Season 5 Trailer Is Here, and It's So Tantalizing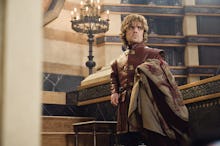 HBO has releasing new footage from the next season of Game of Thrones. Just not very much of it
The show has been releasing five-second segments for people who sign up through its "Three-Eyed Raven" site (where you can "receive visions of the future"). Take a look at the tantalizing 10 seconds that have been shown so far:
Viewers of the show will recognize Cersei, Sansa and Arya, who appear to be rowing a boat. It's not very much, but fans who can't wait until next year may find a little something to tide them over.
If you really want to know what happens next, you could always read the books. Of course, they won't line up exactly, and you may be setting yourself up for an even longer wait. But, in the meantime, Spring 2015 can't come soon enough.