The Fashion Industry's Sleaziest CEO Is Finally Gone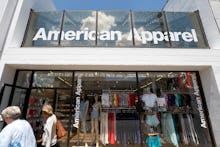 The news: One of the fashion industry's most notoriously terrible people is now out for good. Former American Apparel CEO and well-known grease-dripping sleaze-ball Dov Charney has been fired yet again from the clothing company after an internal investigation found "cause" to terminate his consulting contract.
Charney had been previously removed from his position as CEO this past June after the company's board apparently tired of his seemingly unending parade of terrible decisions, which BuzzFeed reported as "breaching his fiduciary duty, violating company policy and misusing corporate assets," for starters. 
That middle point is what concerned most outsiders, because the "company policies" Charney repeatedly violated included multiple counts of sexual harassment and ham-fisted efforts to cover it up with company money. 
His subsequent million-dollar consulting position was apparently intended to head off a nasty fight with the company over his termination, but it appears as though Charney failed to change his behavior. 
Plus, to make this all even better, a woman, Paula Schneider, will be replacing Charney as CEO. 
A dirty, dirty history: It's hard to understate just how many times Charney has been caught with his dick out. And that's not just a euphemism — in June he was actually videotaped dancing naked in front of employees. Charney has a long history of acting like the worst stereotype of a lothario boss, openly having sexual relationships with female subordinates and repeatedly getting into trouble for inappropriate advances.
As of June 2014, Charney had been sued at least five separate times for allegations of sexual harassment, including one from former employee Irene Morales involving the term "sex slave" (later thrown out). In 2011, the women involved accused Charney of retaliating against the lawsuits by posting naked photos of the plaintiffs online. 
He's responded to the lawsuits in supremely creepy fashion, crediting them for his success on live TV in 2012 and repeatedly making creepy statements like, "Get over the fact that I made a mistake making a comment to one or two girls. How selfish! Why couldn't they just walk away?"
Reportedly, Charney notoriously received oral sex from an employee and later masturbated in front of Jane reporter Claudine Ko in 2004, all the while telling her: "Masturbation in front of women is underrated."
Charney's also incompetent. Over the past six years, Charney's leadership cost American Apparel an astonishing $500 million. When the CEO accidentally revealed his desktop to store managers during a teleconference in 2011, it revealed bookmarks for porn sites and "good hookers," as well as a desktop icon displaying 20,000 unread emails.
Upon news of Charney's final severance from the company on Tuesday, CNBC reports that American Apparel's stock rose by as much as 7% in after-hours trading. With his exit, the company might have a chance at stopping its free-fall into the red. Who knew that the fashion industry and feminists could agree on something for once?
Now if someone would just do something about Terry Richardson, L.A.'s models could rest a little easier:
h/t Forbes