Justin Bieber Actually Made Really Incredible Music in 2014, And Here are the Videos to Prove It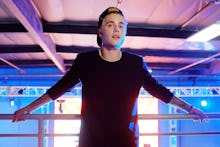 In 2014, no artist was more tweeted-about than Justin Bieber. Granted, many of those tweets were expressions of hate from people across the fame spectrum. From Seth Rogen calling him a "piece of shit" to Patrick Carney (of the Black Keys) implying that he shouldn't win musical awards, 2014 has been a year of criticism for Bieber.
But in all the criticism, the public has missed something about Bieber's year: He started releasing really high quality music.
The backlash is deserved as far as his personal life goes. In January, he turned himself in for assaulting his limo driver. In July, he was charged with a vandalism misdemeanor for egging his neighbor's home at the start of the new year. He's been in and out of court trying to settle a Miami DUI case — finally pleading guilty to "careless driving" this August. And most odiously, an old video surfaced of him using the N-word repeatedly and making violent, racist comments — though he was quick to apologize and Usher, who acts as a mentor to Bieber, came to his defense, saying that Bieber had made mistakes, but is "unequivocally not a racist." 
But as Bieber fell under heavier criticism, he seems to have gained some real creative freedom. The first signs of a renaissance came in the winter. He dropped a video for "Confident," a song featuring his smooth vocals laid down over a funky, bass-heavy beat. Chance the Rapper added a playful verse to the song. Chance even brought out Bieber during his Coachella set, where the crowdpleaser sounded even better in the open sunshine. The strange pairing was an early sign that Bieber was revamping his musical image — taking steps away from simplistic pop and towards real R&B.
Then, this fall, he released "Playtime" with fellow R&B artist Khalil. It had a better groove than almost anything else he's released and carried him further into real R&B territory.
Bieber also collaborated with Australian pop star Cody Simpson on "Home to Mama," one of his most sincere-feeling love song — one that played as far less mawkish than mega-hits like "Baby." Bieber's lower, practiced croon blends beautifully with Simpson's higher voice. 
Each of these songs is a miniature revolt against the extremely packaged output on which Bieber made his name. And while the public has been caught up in Bieber's legitimately destructive behavior, the music world has been registering his musical growth. Back in May, T-Pain recorded music with Bieber, and the R&B veteran told MTV News that he was pleasantly surprised by their work.
"He's doing some great R&B music right now, and it's like literally the best R&B music I've heard in years. I haven't heard music like this since like early 2000s, '90s. It's insane," said T-Pain.
"It's going to be a great next chapter for me," he told Hustle TV earlier this week, "I wanted to have a moment where people didn't see me for awhile and then I could come back stronger."
Based on his musical output in a difficult year, it's clear that Bieber is ready for a genuine rebirth. If Bieber is ready to concentrate on his career and stop being arrogant and violent, then he may be primed for a powerful renaissance — the kind pop music lives for.