The Church of England Just Did What So Many Other Churches Would Never Even Consider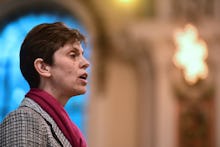 The Church of England made history Wednesday by appointing its first female bishop, ending centuries of all-male leadership.
The Rev. Libby Lane, 48, will be the bishop of Stockport in northern England following a change in church rules at the church's national assembly in July. The decision begins what the archbishop of Canterbury called "a completely new phase of our existence."
"This is unexpected and very exciting," Lane said in a statement on the Church of England's website. "On this historic day, as the Church of England announces the first woman nominated to be bishop, I am very conscious of all those who have gone before me, women and men, who for decades have looked forward to this moment. 
"But most of all I am thankful to God."
The background: The Church of England has been making changes to the makeup of its clergy for years. Since 1994, women have served as priests in the church, a decision that prompted some 470 male priests to leave in protest, many for the Roman Catholic Church.
However, the question of women bishops for the church has faced significant opposition from traditionalists for years. Lane's appointment comes decades after the church first considered the ordination of women in 1975.
According to the New York Times, the Church of England first agreed to the appointment of women bishops in July, affirming the shift after a vote at the church's General Synod in November after the British Parliament approved the measure in October.
"This is a historic appointment and an important step forward for the Church towards greater equality in its senior positions," Prime Minister David Cameron said in a statement.
Why it matters: Many Christian institutions still exclude women from higher levels of church leadership. The Orthodox, Evangelical and Roman Catholic churches, though theologically different, are generally united in their opposition to women joining the upper echelons of church organization.
Even for more "liberal" Anglican churches, stances on women clergy vary by country. Reuters notes that women serve as bishops in the United States, Australia, Canada and New Zealand, but Anglican churches in many developing countries do not ordain them as priests. Even in countries that outlaw job discrimination based on gender, most governments make exceptions for religious institutions as part of church-state separation.
While the principles of ordination vary by church, the decision to appoint Lane as bishop is a clear sign that, with time, religious institutions may take baby steps toward selecting leaders based on their character rather than their gender.
"It has taken a very, very long time," Archbishop of Canterbury Justin Welby said last month, "and the way is now open to select people for the episcopacy, to nominate them on the basis simply of our sense that they are called by God to be in that position without qualification as to their gender."
h/t New York Times