There's a Very Good Reason Why These Women Made the Cover of a Magazine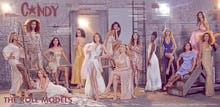 The year 2014 was the year of the trans woman.
In an epic acknowledgement of this fact, Candy magazine's year-end cover highlights 14 trans women activists, writers, models and actresses featured throughout the issue.
"Starring the glamorous women who led the trans revolution," the issue features trans pioneering author Janet Mock, actress Laverne Cox, model Geena Rocero and model Carmen Carrera on the cover. These women were at the frontlines of the trans movement.
As activists, they championed the rights of CeCe McDonald and other trans women who are suffering  gender injustices at the hands of the prison system. Meanwhile in the media, they schooled mainstream journalists and pundits like Piers Morgan, Katie Couric and Gayle King while educating the world about trans issues. 
The revolution begins with visibility. The magazine's "cover girls" boast an impressive list of accomplishments. Rocero "came out" during a brilliant TEDx Talk, Cox graced the cover of Time magazine and was nominated for an Emmy for her role on Orange Is the New Black, Mock published her best-selling memoir and landed an MSNBC show and Carrera guest-starred on shows like Jane the Virgin and appeared in popular media campaigns. 
The magazine's decision to highlight this critical aspect of activism shows visionary thinking from its editorial staff. Visibility raises awareness and educates people about the community and the issues important to them, from employment discrimination to record-level hate crimes. The visibility of the cover will undoubtably translate into awareness about the serious and substantive issues facing the trans community, especially trans women of color.
The magazine also shows us that there are countless trans women beyond the well-known Mock and Cox who are advocates for trans and gender equality. At last week's Pass the Mic event, Mock rightly lamented the continual showcasing, and consequential fetishizing, of both her and Cox as the two trans women of color whom liberals bring out ad infinitum. There are other faces of this movement, and Candy proves it.
These women are changing the world — and they are looking flawless while doing it.