President Obama Is About to Upend Decades of U.S.-Cuba Relations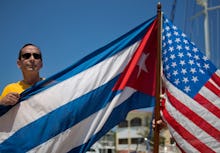 After decades of diplomatic tension, relations between the U.S. and Cuba are about to take a major step toward normalcy.
Reuters reports that "the United States and Cuba are moving to normalize diplomatic relations more than 50 years after they were severed in a historic shift in policy ... [President Barack] Obama spoke on Tuesday to Cuban President Raul Castro to discuss the changes in a call that lasted nearly an hour."
What's changing: Obama has instructed Secretary of State John Kerry to initiate discussions with Cuba and will reestablish an embassy in Havana in the coming months, a major change since President Eisenhower broke off ties in the island nation in January 1961.
The shift in approach also includes further relaxing of travel restrictions, increasing remittance levels, expanding commercial sales and exports from the U.S. and reviewing Cuba's designation as a state sponsor of terrorism. Cuba has been on the State Department's list of terror sponsor since 1982.
While travel to Cuba for tourist purposes will remain prohibited, senior administration officials said that family members, U.S. officials, businesses, journalists and private foundations will start to enjoy relaxed travel restrictions in the coming week. This news will likely be happily received by families who fled Castro's rule since the revolution more than 50 years ago.
How did this happen? The news comes after U.S. contractor Alan Gross, who has been held by the Cuban government since 2009, was freed Wednesday. Senior administration officials told CNN that Gross' release was "part of a landmark deal with Cuba that paves the way for a major overhaul in U.S. policy toward the island."
This is big. "We are charting a new course toward Cuba," a senior administration official told CNN. "The president understood the time was right to attempt a new approach, both because of the beginnings of changes in Cuba and because of the impediment this was causing for our regional policy."
Editors Note: Mar. 2, 2015 
An earlier version of this article cited Reuters reporting, but did not include quotations around the cited passage. The story has been updated to fully attribute Reuters' language.