'The Colbert Report' Saved Its Best Musical Guest For Last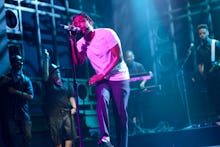 The pressure was high Tuesday night for Kendrick Lamar. "You are the last Colbert Report musical guest," host Stephen Colbert reminded the Compton-California-born-and-raised rapper before he performed. "Honored to have you on, but keep in mind, that means Paul McCartney, R.E.M., Jack White and Nas were your opening acts."
Most would have difficulty shouldering that weight, but Lamar didn't flinch — he absolutely destroyed, performing a new song that is one his most ambitious yet.
A band made up of some of hip-hop's most talented musicians supported Lamar on the debut. R&B singer Bilal provided backing vocals. Terrace Martin, producer and multi-instrumentalist, had a killer saxophone solo. And Thundercat, the virtuoso bassist who records on Flying Lotus' Brainfeeder label, donned his signature wolfskin hat and delivered his signature bass runs.
The untitled song they brought to life has a unique structure. It comes in four segments, each built around a piece of advice Lamar received from an Asian, Indian, black and white man, respectively.
Each begins with a stereotype — the Asian tells him to look inward and center himself spiritually; the white man urges him to compromise his art. But the stereotypical depictions of four races fall away to reveal a universal story about the struggle for purpose, direction and meaning. The track explodes into an epic life-affirming chorus, "I shall enjoy the fruits of my labor, if I get free today! What the black man say? Tell him we don't die. We multiply!"
Lamar continues to produce some of the most inventive and necessary contemporary music. This new song comes on the heels of "i," a positive single that crystallized the #BlackLivesMatter movement's radical self-love before the movement even began. The Colbert Report performance was an epic way to end an era of the Comedy Central show. 
We'll miss the show deeply, but Colbert's point is well-taken: There's at least one other man besides him willing to take a revolutionary stand in the media — Lamar.
h/t Wondering Sound