Science Helps a Dog Run for the Very First Time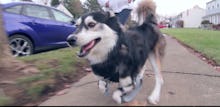 Meet Derby, a husky mix adopted by New Hampshire residents Sherri and Dom Portanova who was born with a congenital deformity that left him with partially developed front legs with no paws. 
For a long time, he had two choices: Use a mobility-enhancing doggie wheelchair that allowed him to roll around or move around using his underdeveloped legs. But now, thanks to 3-D-printed prosthetics, Derby has a third option: complete prosthetic legs designed by his former rescue foster parent, 3D Systems employee Tara Anderson. 
In a post on the company's blog, 3D Systems explains how it took two 3DS designers and a certified animal orthotist just a few hours to design and print a pair of custom-fitted leg replacements that changed Derby's life forever.
The two reinforced loops give Derby the balance and support to run along faster than his owners, and he does so "at least two to three miles" every day. The dog clearly loves it:
"When I saw him sprinting like that on his new legs, it was just amazing," Don Portanova said. 
Just look at Derby run!
"The beauty of 3-D printing is that if the design needs to be adjusted, we don't have to wait for time-consuming and expensive traditional manufacturing processes. We can simply print out a new set," 3DS executive Buddy Byrum said in the post. "The dovetailing of 3-D scanning and design with the ProJet 5500X multi-material 3-D printing allowed for the creation of complete prosthetics printed in a single build, custom-fit to Derby."
Derby isn't the first dog to benefit from life-changing 3-D-printing technology. In August, an Indianapolis Chihuahua named TurboRoo with a similar deformity received a set of custom-fitted wheels from 3-D-printing company 3dyn that dramatically improved his quality of life.
While 3-D printing a new set of dog legs might seem like a simple or even mundane application, Derby's new limbs are just another example of how versatile 3-D printing can be and how many places it can be used.
The technology's applications range from low-cost residential construction to rocket propulsion systems, but it's custom-made prosthetics that have really demonstrated the most immediate utility so far. Handicapped people are now receiving custom-made mechanical prosthetics that some users think offer more useful functionality than state-of-the-art myoelectric models that sense nerve signals to operate automatically. 
Even better, they cost pennies on the dollar compared to standard prosthetics. A mechanical E-Nable hand manufactured by charity group E-Nable, for example, costs just $50. In the future, 3-D printers could even be used to mass-produce organs.
It's a small step, but an important one nevertheless. The more we use 3-D printing, the more we'll realize its full potential. 
h/t io9