13 Beautiful Photos Capture a Side of Cuba the Media Rarely Shows You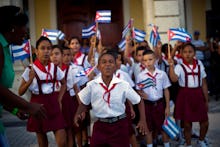 President Obama's announcement Wednesday marked a major turning point in U.S.-Cuban relations. Following decades of tension, the U.S. and Cuba have begun talks to "normalize" relations and open a U.S. embassy in Havana.
For half a century, most Americans' exposure to Cuban culture came through the embargo and the country's longtime dictator, Fidel Castro. Cigars might also come to mind, in addition to radical politics and social strife. But there's a lot more to Cuba than these stereotypes. 
In reality, Americans have missed out on the nuanced complexity and beauty of Cuban culture that's vastly different than the portrait painted in mainstream media. These photos offer a glimpse inside the Cuba that we rarely get to see.
Take a look:
Children play on the street in Havana, the capital city and commercial center of Cuba. 
An Afro-Cuban rhythm section performs in front of a mural on Callejon de Hamel in Havana. Most Cubans have Sub-Saharan African ancestry. It's reflected in Cuba's music, which is heavily influenced by African rhythms.
A pair dances to Afro-Cuban music at the Hotel Nacional de Cuba in Havana. Like its music, Cuba's dancing is shaped by its African roots.
Catedral de San Cristóbal in Havana, a prominent example of Baroque architecture in the Americas, was built between 1748 and 1777. 
Baseball has long been Cuba's sport of choice, but soccer — seen here being played in the streets of Havana — has gained traction lately.
This photo shows a breathtaking view of Trinidad, a city in the province of Sancti Spíritus in central Cuba. The city is 500 years old and filled with Spanish colonial architecture that makes it one of the country's best attractions.
Construction workers dance and sing with a street musician at the end of a workday repairing the streets in Old Havana.
A man keeps cool during Cuba's hot summers by playing volleyball in a beach in Matanzas, Cuba, on Aug. 10.
 A waiter makes a mojito — a traditional rum cocktail in Cuba — at a bar in Old Havana in October 2001. 
A group of men play dominos in the streets of Havana. Some regard the game as Cuba's second national sport, and it's frequently played in times of economic hardship as a source of entertainment and distraction.
An aging building in Havana that — as evidenced by the laundry hanging on the balcony rails — is still in use.
A motorcycle taxi clunks along the streets of Holguín, Cuba, on June 5. The city was founded in 1545 and has beach resorts on its outskirts.
Fans of the Naranjas de Villa Clara baseball club celebrate their team's victory during a championship series by parading around Parque Vidal in Santa Clara, Cuba.
These snapshots capture a vibrant country that's far from some people's presumed image of oppression, radicalism and poverty. While those characteristics play a role, there's a lot more to Cuba. With steps now being made toward a more normal relationship between the U.S. and Cuba, here's hoping that Americans can start seeing more of these scenes — and less of the others.