Here's Why the Internet Should Get Over the New 'Annie' Being Black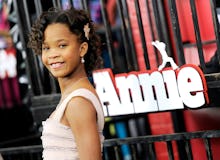 Not everyone is so thrilled about a young black actress playing the lead in a contemporary remake of Annie. But they should get over it, and quick.
The upset over the casting choice still lingers after a trailer released in March showed Oscar nominee Quvenzhané Wallis as Annie. Then and now, people all over social media have expressed disappointment and outrage over the casting decision, because the lead character isn't white like the original. 
In reality, this is an all-too-familiar episode when black actors are cast instead of white ones. But the show still goes on — and, believe it or not, successfully.
No, Wallis doesn't have Annie's red hair, nor does she have her white skin. Yet those details have little to no bearing on the actual plot, about a talented child taken from an orphanage as part of a mega-rich tycoon's scheme to help his image, and they unwittingly form a bond. The situation is one many children of all races can identify with (and have fantasized about), yet some still believe that only a young white actress could offer a true portrayal of what it's like to be a foster kid. 
These reactions aren't only unnecessary, they're tinged with racism.
Often with movie remakes and films adapted from books, details that aren't tied directly to the plot get changed in some way. It would be different if Annie was a film about a historic event or time period, where race and hairstyles would matter much more. But that's simply not what's at stake here, nor was it the case when other films with originally white casts were remade with black actors. 
Here are just a few of the times when this has happened before — and the outcomes may surprise you. 
About Last Night (2014)
The original version of this film follows a romantic relationship borne of a one-night stand. But this year's version flipped the script a bit, showing how it played out for not one but two black couples. Reviews for the romantic comedy were generally positive, and it debuted as the No. 2 film in America on Valentine's Day weekend, taking in nearly $26 million.
Steel Magnolias (2012)
There's no Dolly Parton, Sally Field, Julia Roberts or any other white leading ladies in the 2012 remake of 1989's Steel Magnolias, a film about the joys and struggles shared by a group of women amid a number of hardships, including a major death within the inner circle. 
The plot doesn't change. As for the major difference between the original and the televised adaptation made for Lifetime? All of the women, including Queen Latifah and Jill Scott, are black. Still, it set a ratings record for the network, drawing in 6.5 million viewers. 
Cinderella (1997)
In the original Disney animated version of the story, all the characters are white — save for the brown mice that magically help the downtrodden stepdaughter. When the Rodgers and Hammerstein version was originally broadcast on network television in 1957, Julie Andrews played the starring role.
Forty years after that, black actresses took on two of the film's most important roles when it was remade for ABC. R&B singer and actress Brandy played Cinderella, while Whitney Houston featured as the Fairy Godmother. Ultimately, it was a ratings hit: Sixty million viewers tuned in, making it one of the most-watched TV musicals in history.
Dr. Dolittle (1998)
The 1967 version of Dr. Dolittle, a story about an eccentric physician who can hear animals speak, slumped at the box office but went on to win two Academy Awards. Undaunted by the film's track record, a much more comedic version premiered in 1998 starring Eddie Murphy. Like the original, Dolittle communicated with creatures from all over the animal kingdom, sparking quite a few gut-busting dilemmas. But his patients and working environment were diverse and, like him, his family was black. 
Unlike its predecessor, Murphy's version was a box office hit, grossing almost $300 million worldwide. And the hit song from its soundtrack, "Are You That Somebody?" earned R&B singer Aaliyah her first Grammy nomination. 
The Preacher's Wife (1996)
The film was adapted from 1947's The Bishop's Wife, a story about an angel who comes down from heaven to assist a struggling bishop. That major plot point remained the same for the 1996 Christmas remake, starring Whitney Houston as the title character and Denzel Washington as the angel, Dudley. Originally, his role was played by Cary Grant, and white actors played virtually all the other roles. 
But an all-black main cast for The Preacher's Wife, which focused on a black church, wasn't a problem at all for moviegoers or most critics. Although it did moderately well at the box office, the film's soundtrack, featuring original music from Houston, netted an Oscar and Grammy nominations and became one of the best-selling gospel albums of all time. 
The Nutty Professor (1996)
The 1996 version and its sequels starred Eddie Murphy in a number of the film's roles, including title character Sherman Klump. The key similarity it shared with the 1963 original is the plot, which focuses on a science professor's body image issues and how he used chemistry to help create a much more confident and conventionally attractive alter-ego in order to court a woman. 
A vast departure from the original, there's much to be said about how the Nutty Professor franchise portrayed fat people. However, the first remake was a major hit, earning $274 million worldwide and an Academy Award for Best Makeup. 
The Wiz (1978)
The Wizard of Oz, the classic 1939 musical film, followed Judy Garland and a cast of characters on their way to meet the great wizard, who would fulfill their hearts' desires. Eventually, it was adapted into a Broadway production with an all-black cast titled The Wiz, which featured plenty of soul music and went on to win seven Tony Awards. 
The success of the play gave way to a 1978 movie starring the likes of Diana Ross and Michael Jackson. Although it wasn't received very well at the box office, it earned four Academy Award nominations.
The Manchurian Candidate (2004)
The starring role in the 1962 original was played by Frank Sinatra, but Denzel Washington took the lead instead for the 2004 remake. The first version was released during the height of the Cold War and the Cuban missile crisis; it focuses on a Korean War veteran who was captured and brainwashed by communist forces. The updated version was released within a vastly different social context, especially as more blacks and other people of color have attained rank in the armed forces. Today it's not unimaginable that a black person could be at the center of a diplomatic struggle.
For an industry that has a looming diversity crisis, it's refreshing and even important that these kinds of portrayals are offered to audiences. And it teaches a valuable lesson, that audiences will enjoy movies when the people on the screen actually reflect what the real world looks like.