Motown Has One Last Great Singer Who's About to Make It Big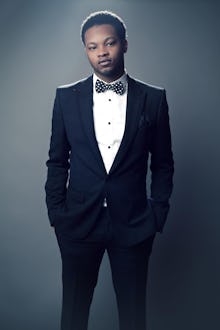 In the winter of 1959, Berry Gordy started Motown Records off an $800 loan. The company quickly evolved into a defining hit-making factory of the '60s: Seven years later, in 1966 alone, 22 Motown singles reached  Top 20 spots on the Billboard charts, and almost three-quarters of its total catalog had fallen somewhere else in the chart-mix. They combined sweet soul and pop in the hooks of the Supremes, Stevie Wonder, Smokey Robinson and the Jackson 5. 
Gordy's Motown was a fast-moving engine — and just as fast as it came, it went. Over the last few decades, Motown's glory has faded considerably. The label has consistently failed to provide a new voice for American popular soul music, even as soul has experienced a resurgence.
But one recent signee on the label is about to turn everything around: B.J. the Chicago Kid, a soulful singer from the South Side of Chi-town, is exactly the newcomer the record label needs to regain their brilliant influence on pop music once again. He just released a new EP, and it seems like he might be the singer to revive that aging legend, Motown Records.
"Every day I watched how a bare metal frame, rolling down the line, would come off the other end, a spanking brand new car," Gordy once said of the automobile factories in Detroit. "Maybe, I could do the same thing with my music. Create a place where a kid off the street could walk in one door, an unknown, go through a process, and come out another door a star."
That's what's been happening to B.J. over the last couple of years. In August 2012, after a few mix tapes and a debut album, Chicago native Bryan James Sledge signed a coveted contract and joined the Motown roster. Up until that point, he was still primarily a songwriter, desperate to make it as an entertainer. His track "Good Luv'n" started getting popular promotion under the label's direction. It was a sign of good things to come — a groovy track recalling Motown's romantic hits like the Staple Singers' "Let's Do It Again" and Marvin Gaye's "Let's Get It On," which were big influences for BJTCK. His refrain about "just gettin' good lovin'" would fit right in with the sentiments of the greats.
About a year after that contract, B.J. broke further out of throwback music and into a style all his own. He featured on the song that fully introduced him to the rap and R&B world, ScHoolboy Q's "Studio." The song made waves. It has been nominated for a Grammy for Best Rap/Sung Collaboration, going up against big names like Eminem, Rihanna and Kanye West, but BJTCK isn't just some amateur lost in the mix. Motown was always about finding the intersection of pop and soul, and B.J. is finding that in a mesh of soul and rap. He's already worked with some of the biggest names in hip-hop, like Kendrick Lamar, Freddie Gibbs, Big K.R.I.T, R. Kelly and Yeezy himself. The singer was also featured alongside Twista and Keyshia Cole way back on 2006's "Impossible." B.J. is fast becoming a big player in the soul hip-hop scene, and that is exactly where Motown needs to go now.
But even as he plays with the sound of his own brand of soul music, B.J. has an unshakeable commitment to the power of a human voice.
"What I'm bringing is back that timelessness," he explained during an interview with Vibe. "Back to the time when you could hear Al Green sing 'I'm' and you forget you just got that bill and that bill is in your hand. But when you hear that note ... I'm that guy that's gonna change that. Whatever it takes to pull you out of that negative thing. Soul music helps you lose yourself."
And he's similarly committed to finding a new and popular style. He doesn't just do throwback — he does crossover soul, R&B and hip-hop tracks that are slowly but surely charting the way to a new mainstream. That commitment to popularity makes him a suitable Motown heir. Songs like "Soul of a Woman" off his new mix tape, The M.A.F.E. Project, which perfectly recast the golden age of Motown.
Source: Soundcloud
That's exactly what soul music needs right now. Soul has seen a resurgence in vintage acts like Sharon Jones and the Dap-Kings, Charles Bradley and Lee Fields, but BJ the Chicago Kid is a step towards a new sound and a new generation of that old feel.
"We haven't had a Stevie Wonder in a long time," the singer told Vibe in that same interview. "We haven't had another Marvin Gaye in a long time. We haven't had another Teddy Pendergrass in a long time, or another Al Green. I embody that. I come from that. I'm going to give y'all that." 
Motown is back — not like it used to be, but maybe just like we need it to be right now.