A Texas Movie Theater Had the Perfect Response to the Death of 'The Interview'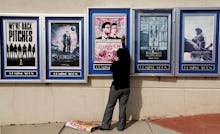 Update: Dec. 18, 2014, 2:34 p.m.
According to the Alamo Drafthouse's twitter account, the theater will no longer be airing Team America: World Police.
Original story:
After Sony announced on Wednesday that it was canceling the release of Seth Rogen and James Franco's North Korea satire flick The Interview after threats from hackers of 9/11-style attacks on theaters, Texas movie theater Alamo Drafthouse had the only logical response: Show Team America: World Police instead. 
The Dallas/Forth Worth theater of the national franchise will host a 'quote-along' for the epic puppet-driven 2004 Paramount satire on Dec. 27. The plot of Team America, co-written by South Park creators Trey Parker and Matt Stone, revolves around Kim Jong-il, the father of current North Korean dictator Kim Jong-un, and the quest of a ragtag group of secret agents to prevent North Korea from stamping out the freedoms we hold so dear.