Boko Haram Just Kidnapped Another 100 Women and Children — and Nobody Cares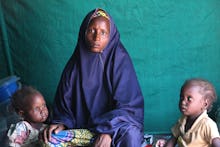 So much for #BringBackOurGirls.
The Nigerian government claimed in October that it had struck a deal with Boko Haram for the release of the kidnapped girls, but the militant group backtracked. Boko Haram leader Abubakar Shekau taunted the international community in a November video message: "If you knew the state your daughters are in today, it might lead some of you to die from grief. ... The issue of the girls is long forgotten because I have long ago married them off."
"Long forgotten": Sadly, Shekau's not wrong. Despite a burst of outrage and intense social media campaign designed to raise awareness around the militant group activities, there's been little progress on retrieving hostages kidnapped by Boko Haram. The BBC notes that, despite military assistance from countries like China, France, the U.K. and the U.S., the Chibok schoolgirls haven't been rescued. Human Rights Watch reports that Boko Haram has killed upward of 2,000 people in Nigeria in 2014 alone.
This apathy is bad news for Boko Haram's victims, especially since Nigeria's military has proved ineffective at combatting the militant group. BBC Lagos, Nigeria, correspondent Will Ross argues that the latest round of kidnappings are "another example of just how ... the military has not been able to offer sufficient protection, despite promises of a massive deployment of soldiers supported by the air force."
The BBC also reports that the military "has had problems of indiscipline amid reports of soldiers being poorly equipped." On Wednesday, a Nigerian court martial even handed death sentences to 54 soldiers who refused to take part in an operation last August to recapture three towns overrun by the Boko Haram.