We Now Have Scientific Proof That Dr. Oz Is Full of It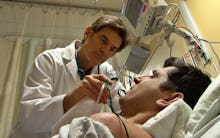 Sorry, Dr. Oz. You've just been debunked by your own comrades.
A new study published in the British Medical Journal examined the health care advice given on The Dr. Oz Show and The Doctors, two of the most well-known medical talk shows on television. Their conclusion? About half of all the recommendations had either no evidence to support them or were actually contradicted by the best available evidence.
"The public should be skeptical about recommendations made on medical talk shows," the study's authors cautioned.
The specifics: After randomly selecting 40 episodes from each, they looked at 479 recommendations from The Dr. Oz Show and 445 recommendations from The Doctors. For recommendations in The Dr. Oz Show, evidence supported 46% of the claims, contradicted 15% and was not found for 39%. For recommendations on The Doctors, evidence supported 63% of claims, contradicted 14% and was not found for 24%.
The Dr. Oz Show's most common recommendation was dietary ("Carb load your plate at breakfast") while The Doctors often told viewers to seek medical advice. However, the study's authors noted that specific benefits associated with these recommendations were often missing, as well as just how big of an impact these benefits would have.
"Anyone who followed the advice provided would be doing so on the basis of a trust in the host or guest rather than through a balanced explanation of benefits, harms and costs," the study's authors wrote. Even more troubling, they added: "The near absence of potential conflict of interest reporting further challenges viewers' ability to balance the information provided."
This isn't really all that new. The saddest part about the study might not be its conclusion, but rather that these conclusions aren't particularly surprising. In Dr. Oz's case, countless stories have been written about the famous cardiothoracic surgeon's shoddy advice. U.S senators have called him out for it, and even his own colleagues say they wouldn't send a patient to see him.
Hell, even Dr. Oz himself has admitted that his products aren't up to snuff. As John Oliver succinctly put it, a better title for Dr. Oz's show might be "Check this shit out with a guy named Mehmet." 
But that doesn't mean these shows doesn't have an impact. While many brush Dr. Oz and the medical professionals of The Doctors off as entertainment specialists, that doesn't discount the fact that they're dispensing their so-called expertise into the homes of millions of Americans.
As the BMJ study's authors point out, during the 2012-13 season, The Dr. Oz Show received an average of 2.9 million viewers per day, while The Doctors saw 2.3 million people tune in. Despite the obvious fluff that these shows peddle to viewers — people who often don't have access to their own crack team of medical professionals — the practitioners involved still have a platform on which to speak. 
While that may speak volumes about America's uncanny ability to put entertainment above pretty much everything else, it shouldn't let people like Dr. Oz and the people on The Doctors off the hook. Maybe we finally have a reason to give them the boot. 
Then again, probably not.
We've reached out to The Dr. Oz Show for comment and will update if we hear back.
h/t Vox