The Three Worst People in Philadelphia Are Officially Going to Trial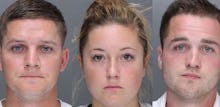 The three suspects in a brutal anti-gay beating in downtown Philadelphia are officially going to trial.
The trio — 26-year-old Kevin Harrigan, 24-year-old Kathryn Knott and 24-year-old Philip Williams — appeared before Judge Charles Hayden in a hearing to determine whether there was enough evidence to hold them on charges that they brutally assaulted and robbed 28-year-old Zachary Hesse and his 27-year-old boyfriend, Andrew Haught, in a September gay-bashing in Philadelphia's gay Center City neighborhood. In a victory for human decency, Hayden determined that there was.
Prosecutors called Hesse, whose boyfriend faced the brunt of the attack, to testify that he and Haught were confronted by a crowd of "young, clean-cut" drunks, who began taunting the pair:
"[Harrigan] asked, 'Is that your fucking boyfriend?' I said, 'Yeah, that is my fucking boyfriend. Do you have a problem with that?' [Harrigan] said, 'So you're a dirty fucking faggot?' So I approached him and said, 'Maybe I am a dirty fucking faggot.' He pushed me, I pushed him."
The beating that followed left Haught with two broken cheekbones, deep facial lacerations and his jaw wired shut. An unknown member of the group also stole his wallet. Hesse's testimony was backed up by a man who saw the attack from his apartment window and called 911.
Twitter helped save the day: The attack drew national attention for its brutality — and for the amateur online sleuths who helped crack the case. Anonymous Twitter user @FanSince09 used nearby surveillance footage released by Philadelphia police to identify the attackers after his followers found photos on social media of the assailants carousing at a nearby restaurant. "Not only were the attackers cruel enough to commit a hate crime, they were dumb enough to do it just hours after checking in and posting photos of their night out on Facebook," wrote Mic's Tom McKay.
Homophobic posts on Twitter by Knott, the daughter of a local sheriff, which detailed a life filled with drinking and casual bigotry, also helped cement public opinion against the group:
Multiple eyewitnesses, photographic evidence and a clear history of drunken homophobia were enough for Hayden to go forward with prosecuting all three on felony assault and conspiracy charges, among others. According to According to Philadelphia magazine, he then wished all three of the defendants "good luck."
It's still not good enough. Pennsylvania is one of just 15 states that don't address sexual orientation or gender identity in hate-crime legislation, meaning that Harrigan, Knott and Williams can't be prosecuted for targeting Hesse and Haught because they're gay — use of the term "dirty fucking faggot" in the attack notwithstanding. Despite an outcry by Pennsylvanians following the attack, and the fervent efforts of out Pennsylvania state legislator Brian Sims, who declared that "if we can't pass a law like this, to protect basic citizens in their home, then we're not doing our job," no legislation is forthcoming.
Hopefully, with the brutal details of the assault on Haught and Hesse brought to light in court, that will change soon.
h/t Philadelphia