Here's Why the #BlackLivesMatter Campaign Needs to Think About Cuba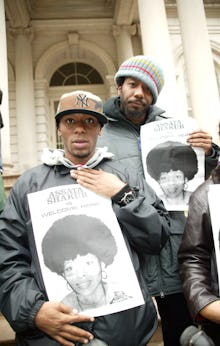 From Ferguson to... Cuba?
The #BlackLivesMatter campaign might begin to redirect its attention southward, after the U.S. agreed to "normalize" talks with Cuba in order to re-establish diplomatic relations. 
The reason? Assata Shakur.
Born Joanne Deborah Chesimard, in 2013 Shakur became the first woman ever listed on the FBI's Most Wanted Terrorists list (although the FBI doesn't recognize her current name). In fact, Shakur shirked her Anglo "slave name" in 1971, shortly after she joined the Black Panther Party. She later joined the Black Liberation Army, becoming a prominent activist for black rights and gender equality in the black community. 
In 1973, a shoot-out during a "routine" pull-over by police on the New Jersey Turnpike left a state trooper dead and Shakur nearly dead with three bullets in her body — even though, she says, her arms were raised, motioning "don't shoot." Despite a lack of "material evidence" and Shakur's consistent denials, in 1977 Shakur was convicted of killing the officer during the shootout.
But the story didn't end there. Shakur escaped prison in 1979 with the help of a mysterious "collective" of activists and, now 67 years old, has lived officially in Cuba with political asylum since 1984. This is why Shakur is worth $1 million to the FBI and is considered a "terrorist" — because from the 1950s through the '70s, the FBI deemed all civil rights and black power groups "terrorist organizations."
Shakur is a symbol of black resistance and her escape is a symbol of its success. Followed by the FBI for years, shot by the police, detained in the basement of a men's prison facility in New Brunswick, New Jersey, and denied proper medical care as a pregnant woman in prison, Shakur faced a gauntlet of challenges. Her escape was seen by many as her way of conquering a system, an act of protest that continues to resonate with a minority community that feels persecuted by the state (more than 400 people were murdered by police in 2013 alone).
Her asylum in Cuba is an additional sign of this resistance. But it's also a pointed commentary about America's criminal justice system. Supporters believe that Shakur would not receive a fair retrial were she to return to the United States. As Columbia University professor Alondra Nelson told NPR, "because she was followed by the police for very particular political reasons, I could imagine that Shakur feels like that she can't get a fair trial ... under these conditions, both because of the conditions of her arrest 40 years before and also because of the disproportionate number of black and brown men and women that go to the jail in the United States today. That's a reasonable, I think, perspective to hold."
Like the #BlackLivesMatter campaign, Shakur has spent her time overseas championing a revolutionary philosophy that calls for the freedom from oppression of people of all races and genders. In an open letter to Pope John Paul II in 1998, later aired on Democracy Now!, Shakur claimed the only thing she is "guilty" of is being a black woman who is actively fighting for justice:
"I advocate self-determination for my people, and for all oppressed people inside the United States. I advocate an end to capitalist exploitation, the abolition of racist policies, the eradication of sexism and the elimination of political repression. If that is a crime, then I am totally guilty."
The news of U.S. talks with Cuba has elevated Shakur's name again, leading to a renewed push from activists, especially those on social media, to call for her exoneration and to petition President Barack Obama to pardon her.
Until then, however, the continued freedom of Shakur, even though constrained in exile, is likely to remain a symbol of revolution in these tumultuous times.