These Workers Just Struck a $185 Million Blow Against Wal-Mart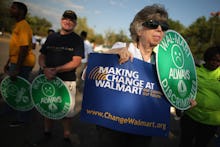 Wal-Mart owes Pennsylvania workers almost $185 million, thanks to a ruling this week from the state's supreme court.
Workers sued the retail behemoth, along with its big-box sister-store, Sam's Club, for making them work during unpaid breaks, meal times and when they were (supposedly) off the clock. The victory affects nearly 187,000 workers, though Wal-Mart could still appeal to the Supreme Court.
The lawsuit has had a long road: Started in 2002 when a worker sued for unpaid wages, the case became a class action suit as other Wal-Mart workers with similar stories joined in, culminating with a court decision ordering Wal-Mart to pay $151 million to workers, plus $33.8 million in attorney's fees.
That same penalty was upheld by the Pennsylvania Supreme Court on Monday, striking down Wal-Mart's arguments that each claim should be litigated individually rather than as a group.
"This demonstrates that [this] type of shortchanging of workers at a mammoth employer should not be tolerated and that the justice system should provide some form of relief for low-wage workers, particularly through class actions," Michael D. Donovan, the workers' attorney, told the Philadelphia Inquirer. Wal-Mart officials did not respond in time to a request for comment.
This isn't chump change: For an idea of how big the impact is for Wal-Mart, the company's earnings for the quarter dropped 6 cents per share after the ruling, according to Reuters.
It's far from the first workers' rights issue facing Wal-Mart. A National Labor Relations Board judge found earlier this month that the company had threatened employees who were trying to organize others at stores in California.
Both rulings come on the heels of mass protests against the company from workers who want better wages and benefits, including the largest Black Friday strikes ever. It's hard to make a dent in a company that brings in $16 billion annually and employs 10% of America's retail workforce, but these lawsuits and protests are aiming — and potentially succeeding — at doing just that.