Kendrick Lamar and His Label Changed Hip-Hop in 2014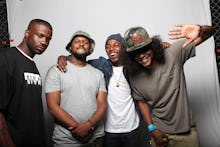 With his last musical guest, Stephen Colbert made a bold statement. "My guest tonight is considered by many to be one of the best rappers in the world," he said in introducing Kendrick Lamar. The Compton, California, MC went on to debut an electrifying, untitled track about race and human society. And the reasoning behind Colbert's selection became clear: Like Colbert himself, Lamar is one of the most vital political voices in America.
It isn't just Lamar, though. He and his labelmates on Top Dawg Entertainment have launched a revolution in an increasingly mainstream hip-hop landscape. And that revolution defined hip-hop in 2014.
The Colbert Report performance was only a capstone on what Top Dawg Entertainment accomplished this year. The label is behind the most ambitious hip-hop and R&B released in 2014, and as year-end lists pour in and award seasons begin, their influence is obvious. This year, they released some classic music — breakout R&B star SZA's Z, Schoolboy Q's Oxymoron, Ab-Soul's These Days and Lamar's "i" (his album was pushed to 2015).
The label's first full album of the year — Clivia Demo from 23-year-old Isaiah Rashad, Top Dawg's newest and youngest signee — was a sign that this was going to be a big year.
The beats are laidback and his lyrics are as thorough and contemplative as a philosopher's treatise. Pitchfork gave it an honorable mention on their Best Albums of the Year list, saying Rashad's "willingness to wade into these difficult questions follows the linage of OutKast ('West Savannah') and Scarface ('Brad Jordan'), fellow Southern souls who displayed far more worldly experience than their age would suggest." Rashad was one more name proving that young rappers don't have to resort to senseless gunplay to reach audiences — that there was room for an old-school feel that sounded entirely different.
The group's biggest album release came shortly thereafter in February when ScHoolboy Q released Oxymoron. The album is West Coast gangsta rap at its finest, boasting an honesty and realism that only the genre's classics could match. But even though it sounds like a classic, Q's politics couldn't be more different.
Q tears down hip-hop's lethal drug culture on tracks like "Prescription/Oxymoron." In blunt couplets, he describes the vomiting, the "blanking out" and the pain that necessarily accompany lean and pill addictions. Most other club rap tracks conveniently leave out these details from their descriptions. Q also discussed his addiction and its effects on his sex life openly and honestly in an interview with New York radio personality Angie Martinez. This openness would have been blasphemous in hip-hop's younger days, when rappers were obsessed with creating unfuckwitable gangsta personae. But in 2014 Oxymoron made waves, proving that hip-hop can be hardcore and honest and still get nominated for a Grammy.
Top Dawg Entertainment isn't only about hip-hop, though. Its only female artist, SZA, also debuted this year with her album Z, which pushed the conventions of pop, soul and R&B to their absolute breaking points. SZA herself suggested the term " glitter trap" to describe her sound.
The singles she's released since continue to push those boundaries, helping modern R&B carve out a space for itself in pop culture. Meanwhile, as the only girl in an otherwise all-male label, SZA is incredibly conscious about the role of women in this sector of the music industry.
The label's in-house mystic, rapper Ab-Soul, also did his fair share of genre blending on These Days. On "Kendrick's Interlude" he and Lamar spit intricate verses over dense free jazz beats, adding fuel to the current jazz/hip-hop crossover trend, which electronic producer Flying Lotus and rapper Mac Miller helped spearhead this year.
And, like his labelmates, Soul did his work to tear down some of the more unproductive parts of hip-hop. On the satirical "Nevermind That," he lampooned gangsta rap. Over that hard-hitting beat, he spit three insightful verses revealing how all the activities that modern rap insist make one "real" — such as popping pills and gunplay — only allow more death and ignorance to creep into the world.
But it was Kendrick Lamar's resurgence towards the end of the year that fully made clear what TDE was doing for music culture. His single, "i," caught significant flack for being corny. But he knew it would — that's why he made it.
"I think from jump, the classifications of music is totally twisted because now we have a generation where you take an Isley Brother's sample, which is soul, and now people consider it pop," he said in a radio interview, "[b]ut me as a leader in music, I want to revamp that whole thing and put it back to its original origins. And not be scared to step out and say this is not that, this is black and this is soul."
The track perfectly encapsulated so many of the current movements in music. It answered Questlove's recent call for new protest music that speaks to the soul. Its chorus "I love myself" essentially gave the hugely viral #BlackLivesMatter campaign its own anthem. It helped prove that conscious hip-hop can be intellectual, groovy and danceable all at the same time.
That is Top Dawg Entertainment's role in the culture — to push boundaries, to preserve the vitality of old forms and reinvest them with their original meaning. They're less like a label and more like a band, sharing the same new consciousness and honesty in their music. They provided a new foundation that other rappers and singers dissatisfied with the limited scope of today's popular music can use to launch some serious artistic efforts. 
Top Dawg Entertainment changed the game this year. And with albums from the labels' remaining acts — Jay Rock, Punch and Lamar — on the horizon early next year, they're set to do it all over again in 2015.