Sam Smith Just Made Music History in a Big Way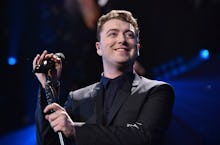 Sam Smith was pop music's underdog of the year. And now his debut has earned him the second of only two albums to go platinum in the United States this year. And it's the only album in all of 2014 to go platinum in both the U.K. and the U.S., an achievement that no other pop star, not even Taylor Swift, will earn this year.
That's an amazing feat. He didn't make the explosive chart debut like fellow platinum artist Taylor Swift — none of his songs were as flashy as "Shake It Off" or "Blank Space." Smith simply recorded a beautiful pop-soul record, In the Lonely Hour, with sparse instrumentation that left a lot of space for his voice to shine. And slowly, his star rose. The album has danced up and down on the Billboard charts for 19 weeks, and his song "Stay With Me" has been a prominent anthem ever since its release in the spring. The news of his accomplishment only made clear how talented he is. Smith is here to stay.
"To say I am ecstatic is a huge understatement," Smith told OfficialCharts.com when the news broke last night, "Thank you so much to every single person who has purchased my album."
His latest music video for "Like I Can," released last Friday, likely helped Smith earn the last little sales boost his album needed to push him past platinum status in both countries. It's a heartwarming video that shows Smith traveling throughout the city with a group of friends in tuxes. It's hard not to smile watching the crew carry flowers up a fire escape and perform a choreographed dance number in an alleyway for a lover we never see.
Smith's win comes as a major surprise for the industry. In October, many writers began to speculate that 2014 would be the first year in which we would have no platinum records. Swift's 1989 was first to break that, going platinum in a week — thanks in large part to her extremely limited release strategy, which kept her songs from appearing on any and all streaming services (Smith's album, similarly, didn't stream on Spotify). Yet Swift was never able to generate any momentum in the United Kingdom, and 1989 has only gone gold with Britain's record certification industry, BPI. (It should be noted that BPI's gold certification has significantly lower standards than the RIAA; Britain's gold and platinum certifications are 100,000 and 300,000, respectively; versus the United States' 500,000 and 1 million.)
This means with his 1 million sales in the U.K., Smith's In the Lonely Hour has actually gone three times platinum with the BPI — a monstrous win over Swift's gold.
Smith's In the Lonely Hour is the most unexpected and inspiring win in pop music this year. His record proves that raw vocal talent and an artist's willingness to be vulnerable can still power massive success. Smith's career is still in its very infancy. Hopefully, it will continue to be as much of a joy to watch as it's been in 2014.